Wednesday, April 16th, 2008
$6.2 million expansion/renovation approved
Mercer County Community Hospital newest design nearly doubles in cost
By Shelley Grieshop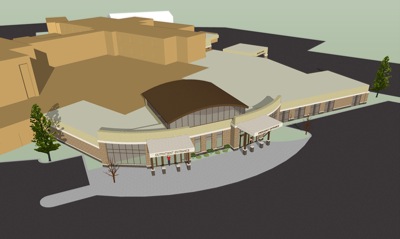 The price tag on the expansion and renovation project at Mercer County Community Hospital in Coldwater has nearly doubled from the initial $3 million estimate announced in January, 2007.
The hospital's board of trustees this week gave the green light to the design plans for the project, now at $6.2 million. The hospital's board of governors also approved the plans at an earlier meeting.
The increase in costs is due to several alterations to the original plan including the displacement of a dock area, changes in the radiation department and the addition of a women's health center within the existing hospital.
Approximately 13,700 square feet will be added to the 60-bed hospital and another 10,000 square feet will undergo renovations, according to the final plans.
Jim Wermert, CEO of Mercer Health, the hospital's parent organization, said bids for the construction work will go out "fairly soon" and are expected back by May 21. Construction at the hospital - located at the corner of West Main and Cedar streets - will begin this summer with completion in 12 to 15 months, he added.
The design, created by architectural firm Fanning/Howey Associates of Celina, shows a new entranceway on the east side of the building for outpatient services and walk-in emergency patients and/or those accompanying them. The current entranceway on the west side of the building will remain in place for visitors. Another entranceway to the rear of the building will allow ambulances and paramedics easy access to the new emergency room facilities.
A separate room/lounge will be added for squad personnel. Three large trauma rooms will be conveniently located near the imaging department. The emergency room will consist of nine private rooms, three trauma rooms and seven examination rooms. A private consultation room will be built for physicians and families.
The outpatient entrance will be built near the laboratory area so patients have a short walk to obtain those services. A lobby and gift shop also will be constructed near the new entrance door.