Wednesday, April 16th, 2008
Minster feasts on Parkway miscues
By Gary R. Rasberry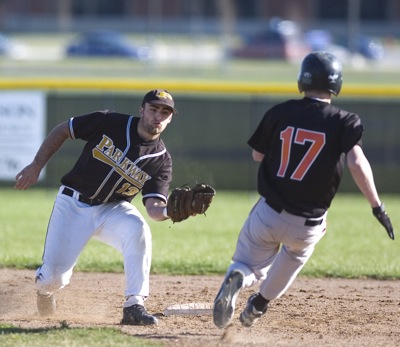 ROCKFORD -Tuesday saw undefeated Parkway, fresh off a non-league win over rival Coldwater, take on a Minster team that lost its first two games of the season over the weekend.
Parkway coach Eric Stachler said after the game that he had a feeling something wasn't right with his team.
Allan Heitbrink and the Wildcats made those feelings reality as Minster scored three times in the fourth, then plated four runs in the sixth en route to a 9-0 shutout of the Panthers at Don Black Field.
Minster improves to 8-2 on the season, snapping a two-game losing streak while Parkway suffers its first loss of the season falling to 8-1.
The biggest area of Parkway's struggles on Tuesday came on defense, where the Panthers committed five errors, including three in the sixth inning that put the game solidly in Minster's court.
"That was definitely the turning point of the game," said Stachler. "I just got done talking to the guys about the difference about last night's game and tonight's game, where defensively we made the plays to win the game and tonight we had a major letdown.
"I had that feeling, watching how they reacted in infield and getting prepared for the game, that we weren't mentally prepared for this game. I just got done telling them that we started out great, but you have to come focused and ready to play every game. We just didn't do that."
The game started as many had anticipated: a pitchers duel between Parkway ace Jensen Painter and the Wildcats' Allan Heitbrink. Through three innings, Painter allowed just three hits and struck out three while Heitbrink scattered two hits and punched out four.
Painter got into trouble in the top of the fourth, with Andrew Baumer scoring the first run on a Jack Griner bases-loaded single. After Painter got a force out at home for the second out, Austin Baumer, the nine-batter for Minster, laced a single to right to score Sam Otting and Griner to make it 3-0.
The bottom dropped out in the sixth for Parkway as three straight errors - two coming when Minster attempted sacrifice bunts - resulted in one run, then Austin Baumer struck again with a two-run single to make it 6-0, chasing Painter.
"We took advantage of some mistakes they made," said Minster coach Mike Wiss. "I think I was happy how we approached the game today.
"We didn't play so well at Fifth Third Field in Dayton on Sunday (losing 4-1 to Lehman). We learned how to come back against a very good team. Anything can happen in this game. We know it here and they know it there."
Meanwhile, Heitbrink was cruising, issuing just two walks, none after the fourth inning, and scattering just two more hits en route to a four-hitter, striking out seven along the way.
"He kept them just enough off-balanced, I think," said Wiss. "I think there were two opportunities, maybe even three, where they had a chance to get a two-out hit (to score a run), but we didn't give them the opportunities with runners on base with one out or no outs."
"Going in, we knew Al was going to pitch, and we know he's around the plate," said Stachler. "We told the guys to go up there and be aggressive at the plate because he don't walk guys. ... We helped him out a bit by looking at strike one, strike two and put ourselves into a situation where he got us to chase bad pitches."
Minster's offense came in large part to the bottom four in the batting order - Otting, Griner, Bryan Phlipot and Austin Baumer. The quartet combined to go 5-for-10 with five RBI and scored five of the nine runs. Aaron Heitbrink added a 3-for-4 game in the three-hole.
"When you get solid run production at the plate from anyone other than Aaron, Andrew and Vince (Fullenkamp) at 3-4-5, makes a big difference," said Wiss.
Parkway's only offensive bright spot came from Derik Snyder, who went 2-for-2 in his first two at-bats and was promptly walked intentionally in the fifth. Snyder made the last out of the game to finish 2-for-3.
Minster returns to action on Friday, hosting Fort Recovery in MAC play. Parkway faces Western Buckeye League contender Shawnee at Don Black Field on Thursday.