Wednesday, April 23rd, 2008
War vet's medals not easy to pin down
Daughter in Celina does not think she should have to pay for service honors
By Margie Wuebker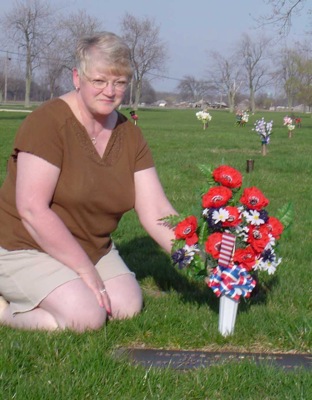 Susie Voisin never dreamed getting her father's World War II military history and medals would be so difficult.
Her plight, which began late last summer, involves more than countless letters and telephone calls. U.S. Senator Sherrod Brown, D-Ohio, brought the matter to the Congressional floor this month shedding light on something fellow legislators did not realize - families of World War II servicemen now must pay for such records and then purchase the medals from vendors.
Her father, Seaman First Class Claude Ellsworth Dewlen, spent two years, three months and 11 days overseas. Assigned to the oiler USS Chehalis in the New Hebrides Island, the crew was among the first to enter Pearl Harbor following the deadly Japanese bombing raid.
After his service, Dewlen collected $250.45 in separation pay and headed home, assuming the five medals he earned for wartime service would catch up with him at some point.
Mercer County Veterans Services Commission member Harry Sunderland said it wasn't uncommon for the servicemen to head home as soon as possible.
"When the war ended, they didn't hang around waiting for someone to hand out medals," Sunderland said.
Dewlen, a welder from Whiteland, Ind., went back to work and eventually followed his wife, the Rev. Pearl Dewlen, into the ministry. They later moved to Celina to share pastorate of Assembly of God Church.
"My dad passed away Dec. 21, 1981 and was laid to rest with full military honors at Mercer Memory Gardens," Voisin says. "The five medals he earned never caught up with him and I finally jumped through all the hoops to apply for them."
She already had most of the necessary documents - Social Security and service numbers as well as discharge papers and birth, death and burial certificates. Local Veterans Services Office personnel Tom Risch and Barbara Phillips assisted with others she needed.
Voisin, who is Dewlen's only child, submitted the request in July only to receive a reply from the Department of Defense stating they had no information regarding a U.S. Navy welder named Dewlen. She submitted a second request accompanied by four pages of copied documents.
"I remember telling Susie that applying for military records and medals was a piece of cake," Sunderland says. "It should have been, but she's still fighting the bureaucracy."
Each roadblock came with another delay until a letter came from R.L. Hindman, director of the National Archives and Records Administration (NARA), stating there was a $50 fee for requested records with payment to be received within 30 days or the case would be closed without reopening provisions.
"That was the straw that broke the camel's back," Voisin says. "I consider it a slap in the face to all veterans who served their country during difficult times."
Sunderland recalls hearing "rumblings" some years ago that such a policy was being considered. However, the talk died down and other survivors seemed to have no problem getting either paperwork or medals. Veterans were entitled to receive one set of replacement medals without charge, according to previous mandates.
A National Archives spokeswoman said a "milestone" signing ceremony took place July 8, 2004, authorizing the preservation of official military personnel records for 56 million veterans who served this country since 1885. The document set a 62-year threshhold - men and women discharged prior to 1946 were subject to fees for desired information and those discharged afterward face no fees until they reach the threshhold.
Hindman's letter explained copy fees for archived materials are waived for veterans or their children if such records are needed to validate a benefit or an entitlement. The tiered fee schedule is $15 for five pages or less and $50 for six pages or more with most requests falling into this category. Persons of Exceptional Prominence (PEPs) - former presidents, famous military leaders, decorated military heroes, celebrities, entertainers and professional athletes - are charged 75 cents per page.
As for the medals, applicants receive a photocopied set if available. "However, we do not issue the actual medals or ribbons," the letter stated. Insignias for many awards may be purchased from civilian dealers or by searching the Internet under military medals.
"Men and women laid their lives on the line," Sunderland says. "I never heard of such a thing and neither has the Governor's Office of Veterans Services. I intend to contact the VFW and American Legion to get this thing resolved if it takes passage of a Susie Voisin law to get it done."
Voisin contacted Brown's office, where aides also expressed amazement that veterans were being charged. Those facing the greatest impact are elderly World War II veterans dying at the rate of more than 1,000 per day.
"Charging for a copy of their personnel records is an outrage," the senator told Congress on April 10. "These records are a symbol of the sacrifice veterans and their families have made. They should be free."
While NARA waives fees for veterans and immediate family members seeking to validate a benefit or entitlement, Brown believes the exception is too narrow and fees are unjustifiable.
"We must honor the service and sacrifice of our nation's veterans," he said. Providing veterans and their family members unfettered access to desired military records is the very least we can do."
Voisin doubts whether the matter will be resolved any time soon. She had hoped to take the medals and the flag that covered her dad's casket to the cemetery on Memorial Day.
"I wanted to place those medals and the flag on my dad's grave if only for a little while and then frame them for posterity," she says. "He waited so long for something he earned. I will not give up because I'm his only voice."