Wednesday, April 23rd, 2008
Long ball paces Bulldogs to win
By Gary R. Rasberry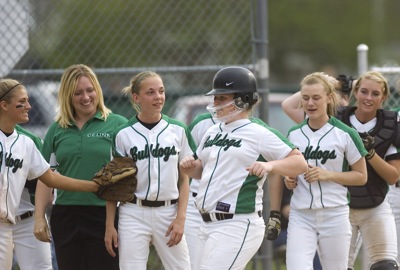 Celina welded its main offensive burst in the third inning and gave Laura Homan more than enough support as the Bulldogs stayed perfect in WBL play with a 6-0 win over Van Wert at Bill Feth Diamond on Tuesday.
The win moves the Bulldogs to 9-2 on the season and, more importantly, 4-0 in WBL play, setting up a battle for sole possession of first place in the WBL on Friday as fellow league unbeaten Shawnee comes to Celina.
Even after the game, Celina coach Nicole Driggs admitted her team is anxious for Shawnee to come to town.
"It is going to be The Game," said Driggs. "Our girls want it real bad. They're prepared. We've been working real hard the whole season. We know every WBL team is going to be tough (Van Wert, which dropped to 11-5 and 2-3) has taken a lot of the teams for a ride and is a very competitive team. I commend them and the coaching staff for that."
Celina got a run in the second off Cougar starter Morgan Williams when Tabitha Knous lofted a deep fly to center. The ball carried deeper and deeper and fell a few feet behind the fence for the home run.
"I wasn't sure if it was going to fall or not," said Driggs of Knous' blast. "It was going high, high, high. Same with the center fielder (Kara Thomas), she hit the fence. ... We know Tabitha has the power."
The big batting damage came in the third. With one away, Audrey Harner reached on an error. Homan singled to right to put two on. Kinzie Gardner brought Harner in with a single. After Samantha Bertke singled and Knous reached on a fielder's choice to keep two runners on, Allison Braun hammered an offering over the left field fence for a three-run homer to make it 5-0.
"Wasn't that fun," said Driggs about the home runs. "It was some rallies that really took us through. We were talking about that, hitting 1-7 (innings) instead of just 2-3 innings. I think we did the job to get it done. I was really happy with our bats when it was crunch time and we needed it."
Celina added another run in the sixth when Amanda Hoying came home on a wild pitch.
For Homan, it was more than enough runs. The senior gave up the only Cougar hit of the game with two out in the first when Alexa Gent singled to left. Homan proceeded to strike out the next batter, then struck out the side in the second. After the second, the only Van Wert baserunner came when Brittany Speelman reached on a walk. Homan struck out nine, including the final two batters of the game.
Driggs was happy with Homan not only for the pitching, but for a 3-of-3 day at the plate.
"Top performance from her again," said Driggs. "She wasn't satisfied because she had one walk and one hit.
"What I really liked from her today was her confidence and composure. She was still throwing heat in the seventh inning. She was still coming across with speed. I really liked that."