Thursday, April 24th, 2008
'Don't say it's too hard'
State wrestler without full arms and legs speaks to Coldwater students
By Gary R. Rasberry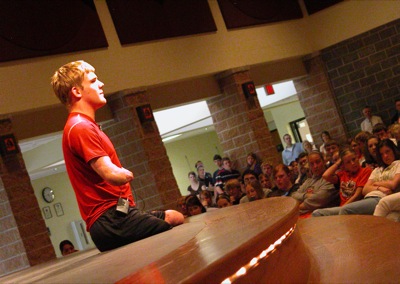 COLDWATER - A lot of words have been used to describe Dustin Carter, among them: inspirational, determined, amazing.
Disabled never really comes up.
The Hillsboro High School senior, who does not have full arms or legs, recently wrestled at the state tournament and on Wednesday gave a motivational speech to Coldwater middle school students.
"If you have the opportunity to do something, try it," Carter told the students during the assembly for Get REAL week. "If you try it and don't like it, that's fine. But if you love it, that's it and keep with it. Don't say it's too hard."
At the age of 5, Carter contracted a severe form of meningitis. To save his life, the lower part of his arms and legs were amputated.
"I had life taken away from me. I flatlined three times. Life is short: Take every minute of it. Every chance you get to do something, do it," he said.
It was an older brother who got Carter involved in wrestling. That seemed to help him turn the corner from getting bad grades and being a couch potato.
"My goal for five years was making it to state," said Carter, who began wrestling in the eighth grade. He does wear prosthetic legs to get around, but not when wrestling.
His coach told him that once he started winning, people would notice. And he was right.
Videos of his matches and workouts showed up on interactive Web sites like YouTube. When he qualified for the state tournament at 103 pounds with a 40-2 record, CBS News came to Columbus to film and talk to him. Carter said he received interview calls from as far away as South Korea.
"They started calling during the season, that's what I didn't like," he said. "After the season, I was all theirs, but during the season, I turned most of them away. I just wanted to focus on wrestling."
Not only did he qualify for state tournament, he won his opening bout.
After his second loss in the double elimination tournament, the crowd at the Schottenstein Center began to applaud and then slowly rose to their feet. Carter, alone on the mat, looked around.
"The prettiest sight I've ever seen, by far," Carter said of the ovation. "I just look up and everyone was standing up, clapping. I was bawling."
Later in the evening, Carter was brought out again for another round of acknowledgment. Again, the crowd rose.
Carter has been sought after to talk about setting goals. One of his earliest speeches came 10 years ago when he was in Middletown to talk to the high school football team, then coached by current Coldwater teacher and assistant football coach Chip Otten. Otten introduced Carter on Wednesday.
"So far, it's students. I've got one where I talk to old people," Carter said about his upcoming speeches. "One is talking to stockbrokers, agents and all that."
Carter, who plans to attend school and wrestle at either Wilmington College or the College of Mount St. Joseph, said he also gets calls from parents with children in his same condition.
"I'll have parents call me to talk to their kids because they're going through the same thing that I went through and need somebody to pick them up," he said.
While Carter enjoys talking to others, he doesn't foresee a career as a speaker.
"I just want to live a life like everyone else. I love changing peoples' lives and I like how my story can do that, but I do get one life and I want to live it like I planned," he said.
When asked what his life would be if he didn't have wrestling, Carter was blunt.
"It wouldn't be much of a life," he said. "Still be at home, getting Fs ... This is a gift. God took these (his arms and legs) away from me, but he gave me a gift. That's wrestling."