Thursday, April 24th, 2008
Luebke feels at home with the Storm
By Gary R. Rasberry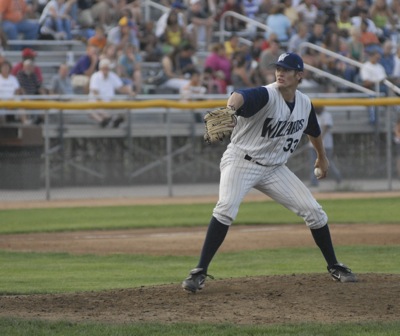 Last year, Cory Luebke got to see a lot of the United States, moving from Columbus to Eugene, Oregon, to Fort Wayne to Lake Elsinore, California.
The Marion Local and Ohio State southpaw still wants to move around, but for now, California is home.
Luebke is in his second year of professional baseball, pitching with the Lake Elsinore Storm of the California League, the San Diego Padres' Class A affiliate. The Storm, whose menacing eyes logo makes it one of the top-selling logos among minor league baseball teams in the country, is located just an hour away from the Padres' home of PetCo Field.
Now that he can set down some roots, Luebke is ready to improve,
"Last year was fun. It did get a little crazy with all the moving around," said Luebke during a Wednesday telephone interview as Luebke got ready for that evening's game against High Desert. "It did give me a chance to meet all the guys. After last year, they told me I would spend the majority of the season - at least half or three-quarters - (with Lake Elsinore) depending on how I did.
"It's good, you get to settle in a little more. Get to know the guys a little better. Last year playing on four different teams (Ohio State, Eugene, Fort Wayne and Lake Elsinore), you never thought you were a real part of them. Knowing you'll be with a group of guys for a while, you feel more like a team."
The Storm was Luebke's last stop last season after starting in short-season Class A in Oregon before giving area fans and family a chance to see him pitch close to home when he was promoted to Fort Wayne of the Midwest League. His last stop in California gave him a chance to pitch with the Storm in the California League Championship Series, losing to San Jose in five games.
To sum it all up: Luebke was a busy, busy young man. After leading the Big Ten in innings pitched with 1172/3, Luebke pitched another 582/3 on his three stops last season.
"They actually had me start my off-season program about a month, month and a half later than the other pitchers," said Luebke. "Just kind of give me more time to give my arm a rest."
In February, it came time to head to camp in Peoria, Arizona. With both the major league and minor league Padres working at the same complex, it gave Luebke a bit of a feeling of what could be.
"It was a great experience," said Luebke. "We're lucky with the Padres with some new facilities. It was nice because not all teams have their minor leaguers and major leaguers in the same place. The major league locker room was a room over from ours.
"To run into guys like Greg Maddux, Jake Peavy and Mark Prior every day, it's something neat. Every day, you see what you're working toward."
With the Storm just roughly an hour away from San Diego, major leaguers that go on rehab assignments for injuries will play a few games before moving up the line.
"Already we had Jim Edmonds play a few games for us," said Luebke. "Clay Hensley, one of the bullpen guys, has made some outings here.
(Continued from page 1B)

"It's great, they (the major leaguers) take care of you , foodwise, after the game."
Early on this season, Luebke and the other Storm pitchers are being closely watched with an pitch count of 75 as of now.
So far, Luebke is 1-1, getting his first win of the season last Sunday against Modesto, with a 6.11 ERA and 17 strikeouts to just eight walks.
The Storm are currently 10-9 and tied for first in the California League South Division.
"The last two outings have gone a lot better," said Luebke. "First and second outing was a little out of whack, mechanical-wise. Just getting my feet wet, I guess. Feels good to be back on track again."
In returning to the Storm, Luebke is reunited with his pitching coach from Fort Wayne last season Wally Whitehurst, who was named the pitching coach for the Storm this season.
"I was real excited when I found out they named him our pitching coach," said Luebke. "I get along with all the pitching coaches great, but I liked working with (Whitehurst) a lot. He's got a lot of big league experience and he's a personable guy. He's fun to be around. Makes coming to the park easier each day."
Luebke's next schedule started looks to be Friday, when the Storm travels to Lancaster to face the JetHawks.

---

To keep up with Cory Luebke's season at Lake Elsinore, check out the Storm website at www.stormbaseball.com