Saturday, April 26th, 2008
'Most likely to succeed' sent to prison
By Shelley Grieshop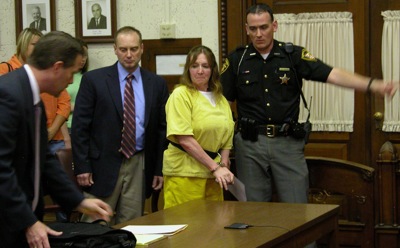 WAPAKONETA - It was an emotional scene in the packed Auglaize County courtroom on Friday as a St. Marys woman was sentenced to seven years in prison for killing another woman while driving drunk last fall.
Alissa Townsend, 49, 1109 Nagel St., spoke softly and showed little emotion during the hour-long hearing in Auglaize County Common Pleas Court, even after Judge Frederick Pepple ordered her to serve nearly the maximum prison time (8 years) for her crime. The sentence is mandatory with no chance for early release.
Townsend pleaded guilty in March to aggravated vehicular homicide, a second-degree felony, and operating a motor vehicle under the influence, a misdemeanor. Her blood-alcohol level the day of the crash was more than four times the legal limit.
At 12:50 p.m. Nov. 17, one day after being fired from her job in Celina for refusing a drug test, Townsend was spotted driving erratically at about 90 mph down U.S. 33 near Wapakoneta. Witnesses said she rammed her car into the rear of an SUV driven by Heather Schaub, 40, of Wapakoneta, who was ejected and pronounced dead at the scene.
Schaub's 3-year-old son Fletcher - the only passenger in the vehicle - was injured, as was Townsend.
Dozens of friends and family members crowded into the standing room only courtroom Friday morning in support of the Schaub family. Seated directly behind the prosecutor's table was Schaub's husband "Rusty," who wept through portions of the proceedings as his young son played nearby.
Rusty Schaub attempted to read a statement to the court on behalf of his wife, a Wapakoneta city employee, but could not maintain composure. He handed the letter to the couple's longtime friend, Sandy Mongold.
"I have two questions I ask a lot: why and how could anything like this happen?" she read from Rusty Schaub's moving statement.
In the message to the judge, Schaub described the morning prior to the accident. His wife was running errands with their son and brought him lunch at work. Her next stop was the grocery store in St. Marys, where she shopped for Thanksgiving Day items for the upcoming holiday before heading home.
At 12:45 p.m., Rusty Schaub received a call saying his wife might have been in an accident. He frantically tried to call her cell phone but could not reach her, he said. He stopped at the police station and discovered there was a serious crash on U.S. 33 near the County Road 33A overpass.
He drove to the scene and eventually spotted his wife's SUV. He looked around and saw a woman holding Fletcher and a body on the ground covered in a white sheet.
"It was a miracle that Fletcher survived...But why (couldn't there be) two miracles?" Schaub wrote. "God got a very special person that day."
A trooper from the state highway patrol held him back from approaching his wife's body, he recalled in the statement. There was nothing anyone could do, the trooper told him.
You took her away, he wrote to Townsend, and someday "you will have to answer to God."
Since her arrest, Townsend has undergone substance abuse treatment for addiction problems that have plagued her since she was 20, her attorney, David Knowlton of Wooster, said in court. He described Townsend as a good person, productive in the community and very sorry for her actions.
Townsend admitted during court Friday to being under the influence of alcohol when she appeared for a bond hearing 12 days after the crash. Then, when Townsend was released from jail after posting bond the week before Christmas, she violated court terms less than two hours later by riding her bicycle to a bar to drink alcohol. She was returned to jail.
Pepple said he was appalled to learn that Townsend had previously blamed the victim for not wearing a seat belt, which may have saved her life. But Townsend corrected the judge and said she didn't blame Heather, she just wished she had been wearing a seat belt.
Pepple noted that it wasn't clear if Schaub actually failed to buckle her seat belt or if it popped open upon impact.
Dressed in yellow jail-issued garb, Townsend gave a brief message to the victims' family and friends when asked by Pepple.
"I just want to take care of my disease...and move on," she said in a quiet voice.
Pepple was visibly shocked during the hearing when he discovered Townsend had graduated high school 18th out of nearly 600 in her class. She also was voted "most likely to succeed," he said.
"(You're) obviously very bright," he commented.
Pepple then read aloud from documents that showed Townsend took her first drink of alcohol at age 12, was 16 when she tried marijuana, 20 years old when she began cocaine use and was experimenting with crack cocaine at 30.
Townsend's driving record includes several speeding tickets and citations for driving with a suspended operator's license, as well as a drunk driving conviction.
As part of her sentence, Townsend also was ordered to pay nearly $29,000 in restitution, a total fine of $10,350. She also was given a 50-year operator's license suspension.
Auglaize County Prosecutor Ed Pierce called the case "tragic" and said it's a lesson in life for everyone.
"The case speaks out to us all. When people we know, our loved ones, have abuse problems, we must speak out," he said, adding many of Townsend's family and friends knew of her problem but did little to help.