Monday, April 28th, 2008
Celina teen dies, one hurt when ATVs collide
By Margie Wuebker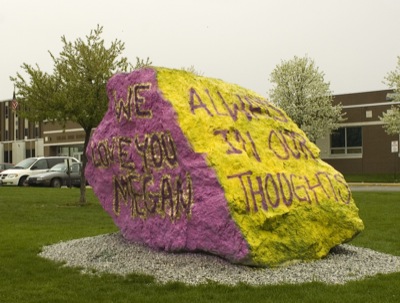 A Celina High School junior died Sunday afternoon after being thrown from a four-wheeler along St. Anthony Road, approximately one-half mile east of state Route 49.
Megan Ann Jeffries, 17, 9505 Celina-Mendon Road, Celina, was pronounced dead at Mercer County Community Hospital in Coldwater a short time after the 4:38 p.m. accident.
Jeffries was a passenger on a 2004 Honda driven by Adam J. Fennig, 18, 2520 St. Anthony Road, Celina. Fennig was the last in a line of three four-wheelers traveling eastbound on the country road, according to Mercer County Sheriff's Office reports.
For a yet unknown reason, Fennig's vehicle struck the rear of a 2003 Kawasaki driven by Shane C. Walter, 17, 101 Celina St., Celina, while both were reportedly traveling 50 miles per hour. A third vehicle at the front of the line was not involved.
Fennig lost control of the four-wheeler upon impact. It veered off the right side of the road and overturned ejecting both the driver and passenger. Neither teen was wearing a helmet, according to sheriff's office reports.
Ambulances took both teens to Community Hospital, where Fennig was treated and later released.
Walter escaped injury when his four-wheeler overturned. The vehicle came to rest off the left side of the road.
The accident remains under investigation. Upon completion, the report will go to the Mercer County Prosecutor's Office for review and possible charges.
Jeffries, the daughter of Donna Jeffries of Celina and Bill Jeffries of Hesston, Kan., occasionally talked about a prospective career in the medical field although no decision had been made in that regard, said Jason Andrews, her mother's fiancé.
"She loved four-wheeling," Andrews said. "She did not own one but frequently went riding with friends. If there is any consolation in this terrible tragedy, Megan died doing what she loved most."
The dark-haired teen spent considerable time in front of the mirror before heading to school or to meet friends. "Oh my, she loved to look good," Andrews added. "That went for her hair as well as her clothes."
Dozens of students congregated Sunday night on the high school lawn to repaint the spirit rock in her honor. Along with the statements "We love you Megan" and "Always in our thoughts," they left individual signed messages.
Celina High School Principal Jason Luebke described the girl as friendly and outgoing.
"Megan always had a smile," Luebke told The Daily Standard this morning. "She will be greatly missed by students and staff."
In addition to serving as an athletic trainer, she was a member of the school's German Club.
Guidance counselors from throughout the district are on hand at the high school today helping students in the wake of the tragedy. Students will be permitted to go to the media center to console each other, to write down their feelings and to make signs for Megan's locker as well as nearby walls.
Her death is the fifth traffic fatality of the year. All five victims, including four Marion Local High School graduates killed in a March accident near St. Sebastian, were age 19 and under.
This is not the first four-wheeler accident to claim the life of an area person. Brandon M. Huelskamp, 15, of St. Henry, died Sept. 16, 2007, when the ATV he was riding overturned on top of him in a creek bed along state Route 119 near St. Henry. In a strikingly similar accident, 13-year-old Damon Klenke of Fort Recovery died Sept. 26, 2006, when the four-wheeler he was operating overturned and trapped him in a creek bed in northern Darke County.
"An ATV can be a lot of fun," Sheriff Jeff Grey said. "But they go fast in a hurry, making it difficult to recover when something goes wrong."
Grey reminds all four-wheeler drivers and passengers to wear the proper safety equipment, namely a helmet, which can provide vital protection.
Jeffries funeral arrangements are pending.