Monday, April 28th, 2008
Coldwater honors its 1983 state title team
By Mark Ruschau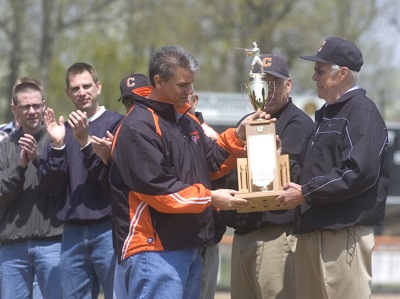 COLDWATER - When local high school baseball fans think about championship programs, one of the first that comes to mind is the program at Coldwater High School.
Then, they usually think about the teams under veteran coach Lou Brunswick that won four state championships in a span of seven years.
What a lot of people do not know, however, is that Brunswick had taken teams to state in 1961 and 1972 and those teams lost in the semifinals and then in 1977 the Cavaliers went to the state finals only to lose to Cincinnati Deer Park 6-0 in the championship game.
Brunswick finally got that elusive first state championship in 1983 and Brunswick and that championship team got together Saturday at Veterans Field to celebrate the 25th anniversary of their Class AA championship.
The team that Brunswick assembled in the winter of 1983 was coming off an 18-6 campaign, where they were bounced from the sectional tournament in their first game.
But as the team gathered together the following season, Brunswick knew that he was going to have a team that worked hard.
"I knew this team might be good because they showed signs of it the summer before," said Brunswick. "They were all playing together and it seemed liked all the players and the parents were with the program. They worked hard in the offseason and even when the season began, they would play a game and then after the games they would have batting practice. Anybody who wanted to stay, I would throw extra batting practice.
"One thing that pitchers would do was go and throw a ball up the wall back there behind home plate and they would throw on their own. You could see that it was a special team because you could see that group of kids worked together and did the things they had to on their own. If I ever wanted to know were my team was, most often all I had to do was go to the batting cage. They were hitting or they were throwing the ball or they were just working out."
The Cavaliers started their tournament in exciting fashion as they defeated Lima Central Catholic 3-2 in the sectional opener on a balk in the bottom of the seventh. They then went on to win their first sectional title in five years downing Ottawa-Glandorf 9-3.
The Cavalier pitchers were the story of the district tournament as they defeated Paulding 6-0 and Archbold 6-0.
In the two tournament games, senior Mark Brunswick, son of the coach, pitched 12 innings of shutout baseball, striking out 17 batters. Tim Buschur added two innings of shutout relief.
One fly in the ointment of the Cavaliers tournament run came in between the two district games as they would lose their last regular season game, 15-5, to Parkway which cost them an outright Midwest Athletic Conference title, which they would have to share with Marion Local and the Panthers.
The regional tournament showed just how balanced this Coldwater team was. In the opener they defeated Columbus DeSales 4-0 behind the two-hit, 13-strikeout pitching performance by Mark Brunswick. With the regional final just two days later, coach Brunswick went with senior Tim Buschur on the mound and he responded well limiting Genoa to four runs on four hits over 6 1/3 innings. Brunswick closed the game with two outs, including a strikeout.
It was the Cavalier offense that got them through the regional finals as they pounded out 10 hits. Russ Cron led the way with 3 RBI.
In the state semifinal, the Cavaliers were to face Northwest High School from McDermitt and their ace Brad Evans, who had won 12 games and had 1.80 ERA going into the game. Coldwater was able to score 13 runs in posting a 13 -2 win and Cron went 4-5 in the game with 4 RBI.
"McDermott had a real good left hander but we were able to get on him right away. We were able to detect a flaw in his delivery where we were able to tell each pitch that was coming," said coach Brunswick. "We had seen Evans before hand and we saw the flaw and then we confirmed it in the semifinal and we were able to hit them."
With a rested Brunswick able to pitch the championship, the Cavaliers got their coach his first championship as they blasted Urbana 12-5 in the final.
"We had been so close to winning a state title before but we were so far away," said coach Brunswick. "We had good teams before 1983 but it always seemed like we would run into a great pitcher and a great pitcher would make a good team look mediocre and that was what happened. This time, however, we started the season hitting the ball real hard and they kept it going right through the state final."