Tuesday, May 6th, 2008
Bulldogs jump on Cavs in first
By Gary R. Rasberry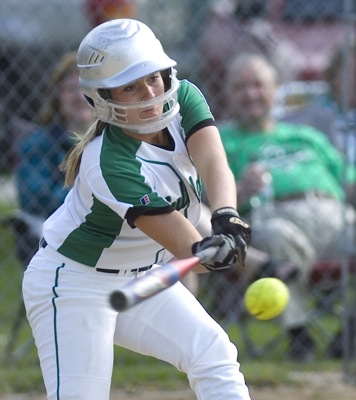 After the first inning, Celina and Coldwater engaged in a pitchers' duel.
While Celina freshman Amanda Hoying was solid for all seven innings, Coldwater's Jessie Welsch needed to get past the first four Celina batters before settling down.
The Bulldogs scored four times in the bottom of the first en route to a 5-1 win at Bill Feth Diamond in Grand Lake circuit play.
Celina improves to 16-2 going into today's key Western Buckeye League matchup with Bath while Coldwater drops to 9-8.
The only trouble Welsch had all day came in the bottom of the first in facing Audrey Harner, Laura Homan, Kinzie Gardner and Allison Braun. Harner led off with a single and promptly stole second. Homan reached on an infield single to third and Gardner singled in Harner to make it 1-0.
Then Braun stepped up and took Welsch's first offering over the fence in left for her fourth home run of the season, making the score 4-0.
After that, Welsch settled down and scattered three hits and two walks for the rest of the game. Celina added a run in the fourth when Homan doubled in Abbey Zacharias, who led off the inning reaching on an error. Welsch struck out five along the way.
"They jumped on Jessie right away. After that first inning, she settled down," said Coldwater coach Jeff Kerr about Welsch. "She kind of got into her groove and got things going for us."
"She did a great job on the mound. I don't want to take anything away from her," said Celina coach Nicole Driggs of Welsch. "I was a little concerned because we were a little apprehensive in taking too many pitches. We need to be more aggressive."
Meanwhile, Hoying started the game by cruising through the first three innings in order before Haley Stucke started the fourth with a base hit. Coldwater got its lone run in the fifth as Robin Buschur led off with a single, went to second on a Teresa Hess sacrifice and came home on a Leah Muhlenkamp double.
Hoying rebounded and retired the final six batters in order, striking out Hess to end the game. Hoying struck out seven and walked just one.
"I'm so proud of Amanda. She's grown so much," said Driggs. "She started getting confidence on the mound and getting into her groove. ... This is a breakout game for her as a pitcher. I'm so proud of her."
"Struggled a little at the plate today. Don't know if that's because we were off Friday and Saturday," said Kerr. "Anytime you don't see live pitching for a couple of days, your timing goes off a little bit. Later innings, I thought we were coming around. (Hoying) pitched a heckuva game."
Braun was 3-for-3 with three RBI, all off the home run, while Homan added a 2-for-3 game.
Stucke paced Coldwater with a 2-for-3 game.
Coldwater has another big game today, traveling to Convoy to face perennial powerhouse Crestview.