Tuesday, May 13th, 2008
Rally falls short for Coldwater
By Gary R. Rasberry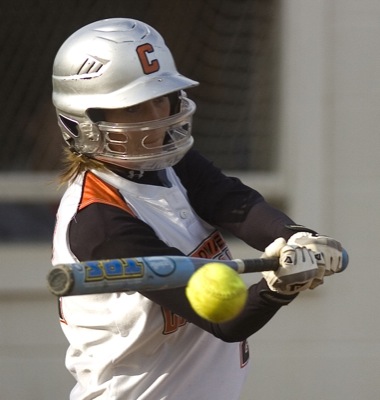 ELIDA - Coldwater had momentum on its side when it finally tied the game against Columbus Grove at 6-all in the bottom of the sixth.
With the bases loaded and just one out, the Cavaliers were just one long fly ball away from taking the first lead of the game.
While they got the fly ball, however, they did not take advantage.
The missed opportunity came back to haunt Coldwater as the Bulldogs scored four times in the top of the seventh, then Grove pitcher Heather Bartz recorded a 1-2-3 bottom of the seventh to eliminate second-seeded Coldwater from the Division III sectional with a 10-6 win at Elida's Dorothy Edwards Field.
Columbus Grove (11-4) will await whomever comes out of the top bracket for a game May 20. The Wayne Trace-Paulding game that was postponed Saturday due to wet conditions will be played Wednesday at 5 p.m. The winner returns Thursday to face top-seeded Fairview with the winner of Thursday's game to face Grove.
The Cavaliers (10-10) came back from trailing 6-1 with three runs in the fifth and Jessie Welsch led the charge belting two in with a double to right-center cutting the deficit to 6-4.
In the sixth, Leah Muhlenkamp reached on an error to lead off the inning. After Ashley Waters bunted Muhlenkamp to second, Haley Stucke drove in the run with a single. Paula Howell followed with a single of her own and Robin Buschur reached on an error that scored Stucke to make it a 6-all game.
Grove coach Jim Wagner decided to load the bases by walking Welsch to get to Katie Muhlenkamp, who was 0-for-3 on the day. Muhlenkamp lofted a deep fly to left center, where Bulldog centerfielder Genna Carpenter made the catch. Howell, on third, came back to tag on the fly, but did not take off for home.
The decision to stay proved costly as Teresa Hess grounded to first base to end the inning.
"We made some mistakes and let them back into the game," said Wagner, whose team made six errors. "They made a little mistake at the end when the girl could have tagged up to put them ahead. That gave us the momentum back."
With the momentum in its corner in the top of the seventh, Grove responded, getting four straight hits to start the inning while driving in two runs during that stretch. Janell Herron provided the final blow, singling in two runs with a one-out single that made the score 10-6.
"You take a momentum swing in a half of an inning and it's really tough to come back from it," said Coldwater coach Jeff Kerr.
"Our girls were determined to score some runs and hit the ball," said Wagner. "They did that. I'm real proud of them. They came back and got it done."
That was all Bartz needed, as the senior got Nikki Heyne to pop to third, Leah Muhlenkamp to pop to short and Waters to ground to third to end the game.
"I'll tell you, there's no quit in these girls," said Kerr. "We got down 6-1 and battled back, ended up tying it.
"She worked the inside corner pretty well," said Kerr of Bartz. "We took a lot of inside corner pitches for strikes. She got them out over the plate. ... We hit some hard balls and they made some nice plays on them."
"Coldwater hit the ball good," said Wagner. "We gave them some runs and made some mistakes. Give them credit. They came back to put us in that position."
Although the playoff run is over, Coldwater has one big goal in site, looking for a share of the Midwest Athletic Conference title.
"We still got two games left to play and we have a chance to play for a MAC championship on Friday," said Kerr, talking about Friday's game at Parkway. "We're looking forward to that."
Stucke and Howell each had two hits for the Cavaliers. Paige Gerdeman went 3-for-4 with three runs scored for Columbus Grove and Herron went 2-for-5 with three RBI.