Thursday, May 15th, 2008
Local 5K club ready to run into new season
By Shelley Grieshop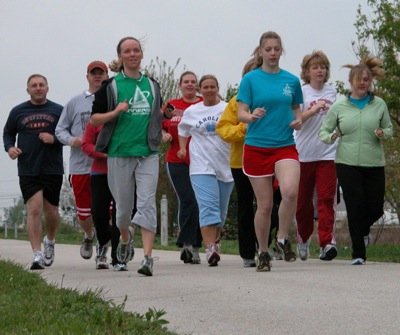 COLDWATER - A 5K run to most people is an intimidating task that spans a long piece of pavement.
If you're not properly prepared, the 3.1 miles can be a barely-able-to-breathe exercise that leaves an aspiring runner disappointed and eager to quit.
"It takes time. Your body, your muscles and your lungs have to get used to it gradually, especially if you've never done anything like this before," says Deanna Davis, co-owner and personal trainer at Innergy Fitness in Coldwater.
Davis and her business partner, Kristy Kahlig, recently began a program to help interested clients condition their bodies for a 5K run. The pair were pleasantly surprised when dozens of people of all ages - beginner and intermediate runners - signed up for the nine-week program.
Davis and Kahlig, like other fitness trainers, advise rookie runners to start out walking and slowly increase periods of jogging during a period of several weeks.
Pat Grieshop of Fort Recovery joined the 5K program and is training for her first-ever 5K run. At 48, she thought she was too old to try.
"I tried before and quit," she says, adding she hadn't trained properly in the past and quickly became discouraged. "I never would have tried it again on my own."
When her sister told her about the 5K club at the fitness center, Grieshop and her 15-year-old daughter, Leah, signed up.
"It's a lot of fun, I really love it," says her daughter, a freshman at Fort Recovery High School. "I already feel like I'm in much better shape."
The mother/daughter team has been strength training at the fitness center for about three months and feel it has helped prepare them for their goal: to run the Zuma 5K in June.
Davis and Kahlig take their crew down the Celina-Coldwater Bike Path three times a week, beginning each session with a 5-minute warm-up. As they head down the trail, the trainers blow a whistle to instruct participants when to change from walking to jogging and back again. The group is about halfway through the program and are alternating 2 minutes of running with 90 seconds of walking.
"By the time we're finished we expect everyone to run 30 minutes straight," says Davis, who admits she wasn't a runner until after high school.
Kahlig hasn't always been a runner either. Although in top physical shape, she has only completed a 3.1-mile run on a treadmill, not in a sponsored 5K event.
"I was never a runner before Deanna and I opened the gym (last year)," she says. "I started running with (her) every once and a while and then began to run in the gym more and more on my own to challenge myself."
Davis believes the key to running is to relax, go at your own pace and take deep breaths. Warm-ups are important to get the maximum amount of oxygen flowing, she adds.
The trainers say running with a partner or team helps keep most people committed; it also serves to distract from the distance yet to complete. If you run alone, music can help pass the time, Davis says.
"I run with my IPod so I don't hear myself breathe," she says with a laugh.
Running is an emotional "high" like no other, which can help people lose weight, build strength and maintain an overall healthy body, they say. They hope to make the experience enjoyable while helping each person reach their short- and long-term goals, Kahlig says.
"It's a great way to stay in shape and build your energy level for the days to come," she adds.

Tips for beginner 5K runners:
• Wear sturdy running shoes that provide proper support.
• Warm-up 5 to 15 minutes before running and do a warm-down stroll afterward.
• Start out gradually with a comfortable walk/run pattern, gradually increasing running time during a period of about eight weeks or until you reach your goal.
• Use your breathing as your guide so you don't overdo it. You should be able to carry on a conversation while running.
• Drink water at the end of your workout to rehydrate. If it's hot and humid, you should also drink about 4-6 ounces halfway through your workout.
• Run/walk at least three times a week to get the benefit but not two days in a row for the first two months so your muscles and tendons have a chance to adapt.
• Run for time, not distance. Never increase running time more than 10 minutes from the last time you ran.
• Find a friend to run with if possible.
- Shelley Grieshop

Local 5K races:
• Saturday: Ribfest 5-K at Mercer County Fairgrounds, Celina, starting at noon with registration beginning at 10:30 a.m. The start/finish point is by the grandstands. Registration is $15, which also will get you into the second Mercer County Ribfest that starts after the run/walk is over.
Race entry forms are available at the fair board office at the fairgrounds or by calling 419-586-3239.
• June 7: Pirates of the Carin' Beings (Relay for Life 5-K Pirates Run in Celina), 419-586-5546.
• June 21: Zuma 5-K (Montezuma) 419-268-1047.
• June 29: 16th annual Country Fest (Maria Stein) 419-925-4620 or www.mercerhealth5kchallenge.com.
• July 6: Redskin Classic 5-K (St. Henry), 419-678-4444.
• July 12: 4th annual Shanes Crossing 5-K (Rockford) 419-363-3188.
• July 19: St. Clair 5-K (Fort Recovery), 419-375-2065.
• July 26: Lake Festival 5-K (Celina) 419-586-2219.
• Aug. 2: 15th annual Buzzard's Glory Classic 5-K (Coldwater) 419-678-4208.
• Aug. 9: 6th annual Burkettsville 5-K, 419-375-4865.
• Sept. 27: 8th annual Feet of Success 5-K (Chili Cook-Off) at Mercer County Fairgrounds (Celina) 419-586-1133.
• Nov. 15: Turkey Trot (St. Henry) 419-375-4619/www.cooperfarms.com.
10K race
• Oct. 5: Oktoberfest Classic 10K, Minster, 419-628-3507, minsteroktoberfest.com
- Shelley Grieshop