Friday, May 16th, 2008
Celina cartoonist competes
By Janie Southard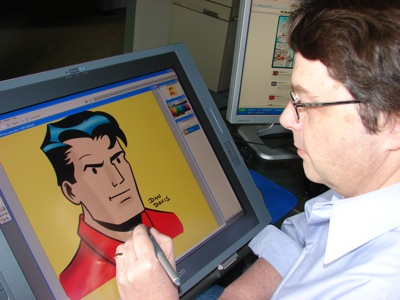 Celina comic book artist Dan Davis has been spending time in the Bermuda Triangle recently on a colorful adventure via his alter ego Captain Luck.
Davis, who grew up on a farm on Tama Road north of Celina, is a finalist in a comic book art competition being held this month by DC Comics at the Web site Zuda.com. The contest is free and will be decided by the popular vote of readers.
"I hope a lot of people will like Captain Luck and vote," he said. "All you have to do is a quick, free sign up of Zuda.com and then vote by the May 31 deadline."
The artist, who works from his rural Celina home, has been connected to comic books his entire 19-year working life and has seen many innovations.
"I used to work on a drawing board and send the paper drawings back and forth to (publishers) via Federal Express," Davis said, adding now everything is accomplished over the Internet.
His old drawing board went into retirement when he purchased a special program allowing him to draw on a computer screen, using special equipment. Recently he bought a 22-inch swivel monitor capable of any degree of incline including flat.
His new software provides many conveniences such as drawing in layers, which in reverse offers the ability to correct in layers and not disturb the entire drawing for a couple little touch-ups.
Currently Davis is working on Harry Potter activity Books for Scholastic, inking for The Simpsons line of comics, an upcoming mini-series for DC Comics and assisting on a daily strip, Funky Winkerbean, which appears in The Daily Standard.
He's spent a lot of years illustrating other people's characters and scripts so if "Captain Luck" wins the contest he'll have the opportunity to be the sole creator of his own strip.
At the end of May the contest will come down to one strip that gets a contract to continue the storyline for a year online. Later the comics will be gathered as a book.
Davis is hoping "Captain Luck" is that lucky strip.
"Captain Luck is a kind of Terry and the Pirates meet the X-Files ... It's about two treasure hunters in the Bermuda Triangle," Davis said. "That setting allows me to mix in some paranormal mysteries like disappearing ships and UFOs with the adventure of hunting sunken treasure and modern-day pirates."