Friday, May 16th, 2008
Fort Recovery, Minster advance with 4-0 scores
Kahlig, Heitbrink dominate on the hill
By Gary R. Rasberry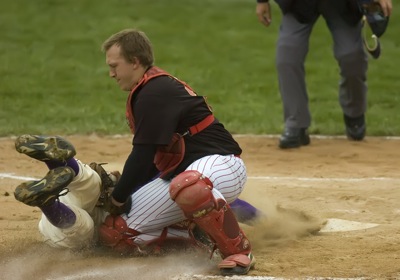 MINSTER - The rain stayed away from Hanover Street Park long enough to give baseball fans a pair of excellent pitching performances in the Division IV sectional finals.
Both Minster and Fort Recovery will move on to next week's district semifinals at Coldwater with matching 4-0 wins.
The brightest gem came in the opening game, as Allan Heitbrink was one wild pitch away from a perfect game, but ended up with his first career no-hitter as the top-seeded Wildcats beat New Knoxville.
The nightcap was just as solid as Greg Kahlig scattered four hits and struck out nine as the Indians knocked off second-seeded New Bremen.
Minster (16-10) will face Delphos Jefferson Wednesday at 4:15 p.m. at Veterans Field in Coldwater. The 12-6 JeffCats beat Fort Jennings 10-2 at the Crestview Sectional on Thursday. Fort Recovery (9-10) will play the winner of today's Crestview/Ottoville game on Wednesday following the Minster game.
Minster 4, New Knoxville 0
Heitbrink and Ranger ace Caleb Allen were engaged in a pitcher's dual in the first contest.
The Wildcats finally got to Allen in the bottom of the third. Robert Gruber led off with a single and went to second on Brian Mueller's sacrifice bunt. Aaron Heitbrink singled in Gruber for the opening run and later scored on Vince Fullenkamp's RBI single.
"Our goal coming in was to win the first three innings," said Minster coach Mike Wiss. "We scored two in the bottom of the third. ... Once we got out to the lead, it made everybody relax a bit."
Minster got two more runs off of Allen, both unearned as four New Knoxville errors played a part in both runs.
Allen also walked six Wildcats, although he scattered just five hits on the day.
"Caleb Allen is a nice pitcher. St. Henry found that out," said Wiss, referring to Allen pitching the Rangers to their first Midwest Athletic Conference win of the year last week against St. Henry. "He had the capability of running it on your hands and throwing a nice off-speed pitch. Then we come up there with his left-handed throwing with our six left-handed batters. We really tried to focus on looking at the ball from the left side of the plate."
"He battled," said Rangers coach John Meinerding. "He's been our number-one guy for us all year. I'm proud how he's stepped up for us all year."
Meanwhile, Heitbrink was moving right along, retiring the first 13 batters of the game, five via strikeout.
The chance for perfection ended with one out in the fifth. Heitbrink fired a wild 1-2 offering that catcher Andrew Baumer could not block while Ranger catcher Kyle Merges swung at the pitch and dashed to first, becoming the first - and only - New Knoxville baserunner.
Heitbrink did not blink, striking out Addison Wolfe and Zach Allen to end the inning, then struck out the first two batters in the sixth before getting Mason Rohr to fly out to end the inning.
In the seventh, Cody Horstman and Caleb Allen grounded to Austin Baumer at first, who recorded the unassisted putouts. Bill Ray took his first offering for a ball, then grounded to shortstop Aaron Heitbrink, Allan's twin brother, who threw to first to complete the no-hitter.
"I knew it all the time," said Allan Heitbrink about having the no-hitter. "It wasn't just me pitching. Everybody else was making plays, too. It wasn't just all me."
Allan Heitbrink struck out 10 Rangers on the day and only once got to three balls in the count.
"First off, my hat's off to Heitbrink," said Meinerding. "Some guy told me it's hard to win when you don't have any hits. He threw a great game."
"On a typical day, for the last three years now, Allan is always around the strike zone," said Wiss. "He doesn't give too many walks (just seven on the season)."
Fort Recovery 4, New Bremen 0
Kahlig worked his magic into pitching a four-hit shutout to put the Indians back in district play. The sophomore struck out nine and walked three in the contest, but got some big help from his defense to keep the Cardinals from denting the scoreboard.
Second baseman Nathan Keller made an early defensive gem with a diving catch of a Corey Jutte liner to start the bottom of the first. The Cardinals stranded seven on base in the game.
The biggest threat to score for New Bremen came in the third inning as Derrick Bruggeman walked, Jutte singled and Matt McCollum was hit by a pitch to load the bases for Anthony Moeder. Kahlig threw his first three offerings out of the strike zone to make it 3-0, then came back with two strikes before getting Moeder to look at strike three to end the threat.
Later in the sixth, the Cardinals had runners on first and second before Brad Wendel swung at strike three to end another inning.
The run that counted came in the second as Clint Tobe walked with one out, stole second and went to third on a wild pitch. Brady Kahlig lofted a deep enough fly ball to left to score Tobe for the opening run.
"That's what we do," said Fort Recovery coach Shane McKibben about the Indians' style of scoring runs. "That's our game. We get on base and we try to make something happen. When you get a lead, you can do more of it."
The Indians added single runs in the third, fourth and fifth innings. The final run came in a strange delayed steal with the bases loaded. Cody Fiely, who came back into run after pinch-hitter Toby Metzger, who missed most of basketball and all of the baseball season to this point with a knee injury, drew an intentional walk. Fiely took off for second, even though Curt Heitkamp was on base. As Cardinal catcher McCollum went out to try a rundown, Bobby Rammel dashed home and scored before Fiely was tagged to end the inning.
Kahlig got stronger as it got colder and the rain got closer, striking out the side in the bottom of the seventh to get the win.
"Greg did a real nice job," said McKibben. "He pitched a good game before (a 8-0 win over Waynesfield last Saturday). Nathan made a couple nice plays. That kind of got the defense rolling. That stuff's contagious."
Rammel went 2-for-3 and scored two of the Indians' runs. Curt Brown had two of the Cardinals' four hits.