Wednesday, May 21st, 2008
Bulldogs edge Shawnee by 1/2 point for WBL All-Sports title
By Ryan Hines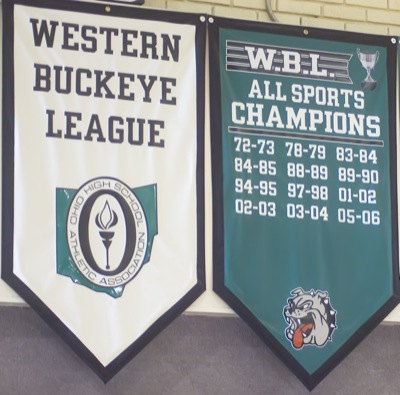 Overall excellence in athletics is bringing the Western Buckeye League All-Sports trophy back to Celina.
In a race that covered 18 sports and wasn't decided until the final event of the WBL track meet, Celina won by the slimmest of margins.
Celina recorded 137 points and trimmed Shawnee's 136.5 by 1/2 of a point.
The Bulldogs needed to beat the Indians by 7 1/2 points at the WBL track meet over the weekend and Celina triumphed over Shawnee by eight points to win the All-Sports title. Celina's pair of second-place finishes from the track teams gave the Bulldogs the slim margin of victory over Shawnee, which had its track teams both finish in seventh place.
"I think that it says a lot about the athletics here at Celina," said Celina athletic director Bruce Boley. "We get a lot of support from the administrators and then the coaches put countless hours into their sport, but of course, we are fortunate to have the athletes that can bring success across the board to make our whole athletic program a success. As an athletic director, it's gratifying to see because it shows the versatility that is needed to win this."
WBL team are awarded 10 points for first place, nine for second, eight for third, and so on and so on down the line. Once all 18 sports have been completed, the points from each sport are added together for a final point total.
Celina will regain possession of the All-Sports trophy in the fall when Shawnee hosts the Bulldogs for their annual football matchup.
"This was the closest race that I can ever remember for this and the coaches and athletes really can take pride in it," said Boley. "I think that the kids will really enjoy getting the trophy back from Shawnee during the fall."
The Bulldogs managed WBL titles in girls soccer, girls tennis, boys cross country. Celina tied for the league crown in girls basketball, wrestling and girls softball while taking second place in boys swimming, girls swimming, boys track and girls track. In 11 of the 18 sports in the WBL, Celina finished either in first or second.
Competition for the WBL All-sports trophy began in the 1971-71 school year and has been in existence for 36 years.
Celina has won the All-Sports trophy in three of the past five years with Shawnee being the recipient the other two years.
It is the 13th time that Celina has won the All-Sports trophy, which is most all-time in the WBL, and the Bulldogs finished second on 11 other occasions. Defiance has won it 10 times overall and Shawnee has won it five times.

WBL All-Sports Final Standings:
The final rankings for the 2007-08 school year for the Western Buckeye Leauge All-Sports trophy.
School Points
1. Celina 137
2. Shawnee 136.5
3. Ottawa-Glandorf 116.5
4. Defiance 114
5. Van Wert 104
6. St. Marys 103.5
7. Wapakoneta 89
8. Elida 70
9. Kenton 63
10. Bath 53.5