Thursday, May 22nd, 2008
Fort Recovery wins in final at-bat
Indians top Crestview; Delphos Jefferson cruises past Minster
By Gary R. Rasberry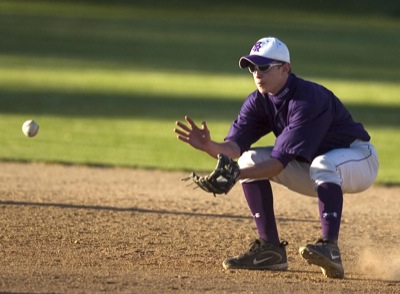 COLDWATER - Down to its last out and trailing Crestview by one, Fort Recovery was looking for the big play from the bottom part of the batting order to keep the season alive.
They found it in Nathan Keller.
Keller's triple off Briggs Orsbon scored Derek Koester to tie the game. Then Curt Heitkamp's bunt single brought in Keller to give the Indians their first lead in the teams' Division IV district semifinal. Fort Recovery then had to sweat out a Crestview bases-loaded threat in the bottom of the inning to come away with a 6-5 win at Coldwater's Veterans Field.
The Indians (12-11) will play in their second straight district title game on Friday at 7 p.m.
In the first game of the day, Delphos Jefferson (17-6) got to Minster ace Allan Heitkamp from the first pitch and knocked off last year's district champ 13-3 advancing to face the Indians.
The Indians and Jefferson's Wildcats faced off earlier in the season, with Jefferson posting a 5-0 win.
Fort Recovery 6, Crestview 5
In a contest where both teams' pitchers combined for 11 walks and eight hit batsmen, it came down to a few key plays that set the tone of the game.
With Crestview leading 4-3 with one away in the top of the sixth, Fort Recovery looked poised to tie the game with pinchrunner Brian Keller at third and Brady Kahlig at the plate. Kahlig took Orsbon, who came in with no outs when Kyle Balliet got into a jam, to rightfield with a fly and Ian Zollars made the catch, with Brian Keller taking off on the tag. The relay from Zollars to first baseman Balliet to catcher Mo Sarka made for a close play, which the home plate umpire called out.
Crestview could not get an insurance run in the bottom of the sixth, which proved to be costly. Orsbon, the All-Ohioan football player heading to Ball State, quickly got two outs in the top of the seventh before walking Koester, who was walked in all four plate appearances on the day. Nathan Keller, batting just .171 on the season, took Orsbon's 2-2 offering to deep right. Koester dashed around and scored from first base as Keller went to third on the triple.
"We talked about that at practice. I told the team somebody at the bottom of the lineup that hadn't been hitting the ball this year, someone is going to step up tonight," said Tribe coach Shane McKibben. "We needed someone in the lineup to step up and Nathan Keller did that."
Heitkamp stepped up and pushed a bunt to the first-base side of the mound, then hustled out a single as Keller came in to score the go-ahead run.
"I thought Heitkamp, being a good bunter, I just took a chance," said McKibben. "We took a game and made one more play than they did."
Greg Kahlig, who had 101 pitches after six innings of work, set up to try and close things out.
Orsbon responded with a single. When the speedy Orsbon tried to steal second, Heitkamp fired a laser to Frank Thien, who applied the tag for the first out. Balliet and Sarka followed with back-to-back singles before Kahlig struck out Jordan Gibson and Heitkamp could not handle the pitch, allowing the runners to move up.
McKibben chose to walk Tony Springer to load the bases for Zollars. With pitch number 120 approaching, Kahlig reached back and put together three big pitches to strike out Zollars and end the game.
"We had some guys out of position for some in-house problems and we had to fight through some things tonight," said McKibben. "Some guys who haven't played lately had to play. We responded. Crestview is a heckuva team. I'm just so proud that everyone on our team participated somehow.
"We're happy, but they were here last year," continued McKibben. "They're not done. This is my first year back, but they made it back last year. They want another step."
Delphos Jefferson 13, Minster 3
Right from the start, the Jeff-Cats were ready to go. The first three batters for Jefferson - Cory Bastian, Sean Fisher and Josh Miller - went double, single and triple against Heitbrink, who was coming off his first career no-hitter last week in sectional play.
The biggest blow came with one out as Aaron Schuerman took a first-pitch offering over the fence in right center for a two-run home run that put Jefferson up 4-0 after one inning.
"You couldn't ask for a better start to a game," said Jefferson coach Troy Montenery. "That's the most runs we've scored in the first inning all season."
"That's not how you want to your tournament game to start in district, by any means," said Minster coach Mike Wiss. "They're middle-away hitters, they hit the ball middle-away. We knew they don't walk a lot. They swing the bat. We also gave them five errors. We didn't play well in the outfield today."
That was all the runs Jefferson starter Mike Rahrig would need as he kept the Minster bats quiet for the five innings he worked. Rahrig set down the first eight Minster batters in order before Bryan Phlipot singled with two away in the third. Rahrig walked two and struck out seven before giving way to Craig Carder in the fifth.
Jefferson looked to make it a run-rule game, plating two more in the third and, after Heitbrink finished his day after four innings, scored five more off relievers Eric Trushaw in the fifth. Trushaw could only get two outs in the fifth before Josh Corbitt came on to get out of more trouble.
Minster escaped being run-ruled with two runs off Carder in the bottom of the fifth and got another run in the sixth before Carder settled down to close things out in the seventh.
"Seventeen hits is a group effort, all the way around," said Montenery. "Everybody got into the action today. It's a huge win for the program against a very quality Minster club."
Schuerman was just a double away from hitting for the cycle, going 4-for-4 with three RBI. Bastian added a 3-for-5 day with three runs scored and two RBI. Fisher also went 3-for-3.
Phlipot was the only Minster player with two hits, going 2-for-2 with a run scored.
"On a typical day, yeah, you'd be disappointed knowing that you're not going to put the uniform back on for nine months," said Wiss. "That becomes something that is a little more disheartening, especially when you have to let (seniors) Aaron and Allan Heitbrink, Andrew Baumer and Vince Fullenkamp go. Those guys have been in our order for quite awhile now. They've been a large part of our wins the last 3-4 years.
"I'll tell you what, on this day, the positive accolades and comments go to Delphos Jefferson. They played very well today. They really did and they deserve every positive comment they get. They pitched well. In both circles (pitching and hitting), they played their butt off today."