Saturday, May 31st, 2008
91-year-old plants eye candy for town to enjoy
Minster resident Rich Boeckman readying beds for explosion of flowers this summer
By Margie Wuebker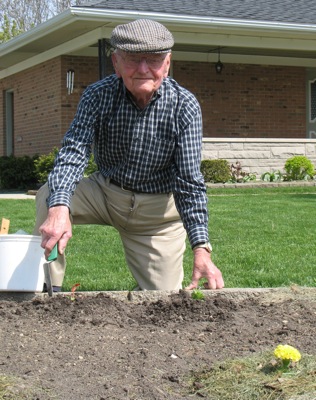 MINSTER - Richard "Rich" Boeckman believes in doing his part to brighten at least one corner of this Auglaize County community.
At 91, the former businessman creates a colorful display of petunias, marigolds, impatiens, cannas, begonias and salvias in his yard at the corner of Garfield and Third streets.
Traffic slows noticeably as the growing season unfolds giving passers-by an opportunity for a leisurely look. One unidentified motorist quickly discovered the leisurely look came with a price tag - $115 after he rolled through a stop sign and got a ticket.
Most folks are content with one trip past the attractive brick ranch-style home and neatly manicured lawn. Others go around the block in order to see the backyard which boasts a large flower bed with a fountain and assorted plantings. The sweet smell of blooming lilacs rewards the extra effort each spring.
"I always pick out flowers that bloom a lot," he says with a knowing smile. "I'm rather partial to five or six varieties for that very reason. There are so many beautiful flowers but some only last a week or two."
The most abundant bloomers put down roots in a large bed ringed with landscaping stones. Spiky salvia fills the center towering over marigolds, petunias and the like. Weeds seldom get a foothold due to frequent inspections and liberal applications of grass clippings.
He purchases several flats of plants each year at Western Ohio True Value Hardware, sticking with tried-and-true favorites instead of experimenting with new varieties. The flower beds encircling the house get some annuals to supplement an array of perennial bulbs.
Planting takes place in early to mid-May once the likelihood of a damaging freeze lessens. Boeckman resists the temptation to overcrowd the bed knowing the fragile flowers will spread quickly thanks to the combination of fertilizer and rain water from the sky or his spacious cistern.
"Many folks tend to put out too many flowers," he says. "I place them sparingly but not lined up in military fashion. They soon grow into nice big plants. The marigolds nearly took over last year competing with the salvias to become king of the flower bed."
Boeckman considers Oktoberfest weekend as the flower garden deadline. He spades the plants as well as adding aged grass clippings to enrich the soil. Like many others who experienced the Great Depression or learned about it from their parents, he religiously adheres to the motto "Waste not, want not."
"I tell people this year's flowers are rooted in the past," he says with pride. "If you take good care of the soil, it will take good care of you."
The Cassella native did not develop a green thumb until later in life. At the age of 17, he went to work for Henry "Big H" Niemeyer at a filling station a stone's throw from the Miami and Erie Canal. Boeckman learned the garage business where his tasks ranged from changing oil to repairing tires to overhauling motors in exchange for $3 a week.
"The boss even boarded me, provided meals and purchased my first two work outfits as part of the deal," Boeckman says. "For a kid who grew up in the horse and buggy days, it was like winning the lottery."
He and fellow Minsterite Ben Hemmelgarn owned and operated a local service station for 21 years. Boeckman eventually retired in 1981 from Boeckman's Auto Center, a Minster business he had run since 1965.
"I didn't have time for flowers back then," he admits with a sigh. "And my wife (the former Alvira Moeller) had too many allergies to deal with them."
Retirement afforded him the time and now he looks forward to spring with renewed zest even though he intersperses planting with rest periods. Getting up and down becomes a greater chore with each passing year but he has no plans to throw in the trowel any time soon.
Boeckman, who has seven children, 16 grandchildren and 39 great-grandchildren, fills scrapbooks with pictures of his handiwork. He enjoys taking visitors on a tour of the grounds and capturing the moment for posterity. The pleasant man with a ready smile is proudest of an award he received from the Minster Garden Club proving he has mastered the art of gardening.
"For many years New Bremen was known as the flower town and Minster was known as the lawn town," he says. "Things are gradually coming around and I'm doing my part to beautify the town."

Petals of advice:
Here are some flower-planting tips from Richard "Rich" Boeckman:
• Mix top soil with peat moss (about 15 percent or more) in a wheelbarrow prior to planting flowers.
• Dig a hole in the flower bed about 3 1/2 inches in diameter and 3 to 4 inches deep.
• Drop approximately three-fourths of a level teaspoon of fertilizer in the hole; add a small amount of the top soil-peat moss mixture from the wheelbarrow covering the fertilizer and mix with the tip of a trowel.
• Set plant in the hole and fill with top soil-peat moss mixture to ground level.
• Use soil dug from hole to make a dike around the plant to hold water.
• Water newly planted flowers in generous fashion and regularly thereafter taking care not to give them a shower in the heat of the day.
• Cover ground around each plant with grass clippings to hold moisture. You can apply more grass clippings at a later time if you wish.
• Remove spent blooms from time to time to strengthen plant and encourage additional planting.

-Margie Wuebker