Saturday, May 31st, 2008
Cavaliers score early and then ride Geeslin
By Gary R. Rasberry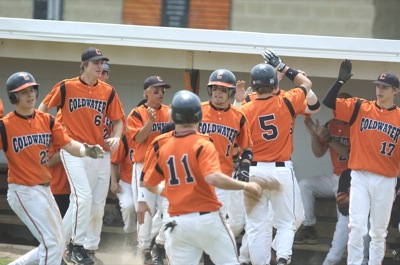 ELIDA - This time, Coldwater decided not to wait to score.
The Cavaliers scored two runs in the bottom of the first inning, then added insurance late to defeat Marion Pleasant 4-0 in the Division III Regional Championship game at Ed Sandy Field in Elida on Friday afternoon.
With the win, Coldwater (27-4) heads to its 15th state final four since 1961, the first since 2004, next Friday at Cooper Stadium in Columbus against 28-3 Canton Central Catholic at 1 p.m. The Crusaders (28-3) beat Peninsula Woodbridge 13-9 to capture the Massillon Regional title. Pleasant sees its 19-game win streak snapped to end the season at 24-7.
Tuesday, it took Fairview's Ryan Radcliff to hit a home run to spark the Cavaliers into scoring in the bottom of the fourth inning to post a 2-1 win.
Friday, Coldwater wasted no time getting to Taylor Braun, who threw 45 pitches over five perfect innings on Thursday to beat Woodmore in the other semifinal.
Ryan Geier led off the fun with a double to the fence in right. After Tony Harlamert popped out, Cory Klenke reached on a walk. After both runners stole a base, Keith Wenning lofted a high fly into shallow left-center. Spartan shortstop Matt McKinney made the catch and the speedy Geier tagged up and headed home, sliding in as the throw got past catcher Andrew Kundrat. The wild throw allowed Klenke to sprint from second and score standing up to make it 2-0.
"You score first, it's huge on our part," said Coldwater coach Brian Harlamert, going to state for the third time as coach to go with the two state titles won as a player. "We were a little aggressive, getting a couple guys on, get stolen bases and have a shallow fly ball. Being aggressive, Ryan took off and Cory followed."
That was all that Coldwater pitcher Bill Geeslin needed. After allowing two runners to get on in the top of the first before striking out Brad Potts to end the inning, Wenning got help from a 5-4-3 double play to end the second.
"Nice to get the two runs early to help Bill relax a bit," said Harlamert. "Bill's been following what Cory's been doing on the mound for us. He controlled the game from the mound."
In the third, the Spartans made their last true threat to score as Geeslin got wild and hit Elijah Sparling to start the third. McKinney followed with a single to put two runners on. Braun lofted a short fly to right, but Kyle Ahrens came in and made a big diving catch for the out and to keep the runners on their bases. After Griffin Clark popped out to Geeslin, Cory Snyder was hit by Geeslin to load the bases for Potts. This time, Potts swung away at strike three to leave the bases loaded and deflate the Spartan rally hopes.
"We didn't get any clutch hits," said Pleasant coach Chris Kubbs. "(Geeslin) made the pitches when he had to."
"When we got into those jams, I was letting my ball get up and wasn't letting my defense play," said Geeslin. "I found a way to get the ball into the zone and let my defense make plays. You can get out of it when you have good defense."
Geeslin proceeded to retire the side in the fourth, fifth and sixth innings, getting some additional run support late in the game.
In the fifth, Jordan Borgerding led off with a pinch-hit walk, then went to second on Chad Westgerdes' bunt. After a passed ball moved Borgerding to third, Geier grounded deep to short, allowing Borgerding to score.
In the sixth, Klenke doubled and stole third before Ahrens singled him in to complete the scoring.
In the top of the seventh, Geeslin allowed a leadoff double to Corey Nielsen, but promptly retired the next three batters, making a dash to cover first to force out Sparling to end the game.
"They always say pitching and defense wins ballgames. And timely hitting," said Harlamert. "Big hits by Kyle in the sixth with two outs, a ground ball to get a run in."
Geeslin did not allow a walk to Pleasant, although he did hit three batters, while striking out six in getting the four-hit shutout.
"He hit that corner well," said Spartan centerfielder Griffin Clark, one of only two seniors on the Pleasant roster. "He started to struggle in the last two innings, but the first five innings he got ahead early and put us in a hole."
Ryan Geier and Klenke each went 2-for-3 with Klenke scoring twice to pace the Cavaliers.
"We feel good. We've got two more to play," said Harlamert.