Wednesday, May 7th, 2008
Bath spoils Celina celebration
By Ryan Hines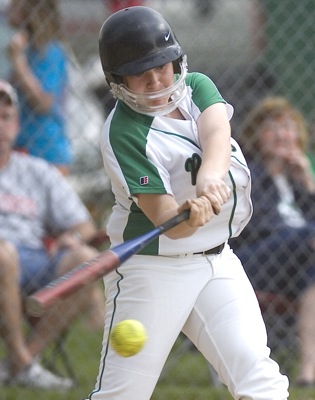 Celina was hoping that Tuesday night would end with a little celebration, but Bath made sure that it didn't happen.
At least not yet.
Celina had a chance to earn at least a share of the Western Buckeye League softball title with a win over Bath at Bill Feth Diamond, but the Wildkittens plated a run in the fifth inning for a 1-0 victory over the Bulldogs.
It was the first league loss of the season for Celina (16-3), which falls into a virtual first-place tie on top of the WBL standings with Bath (18-5) as both squads have one loss on their resumes.
"It was a typical Celina-Bath game in the WBL and I think that most people were expecting it to be a tight contest and it was," said Bath head coach Laura Ford. "We got some key hits at key times and made some things happen. We lost our first WBL game of the spring and we've been a pretty determined team ever since."
Of course, winning the league title is still a possibility for the Bulldogs with just St. Marys and Elida remaining on the league slate for Celina while Bath, which lost to Defiance 1-0 in the first league game of the season, has Ottawa-Glandorf remaining.
"It went like both sides were expecting it to go," said Celina head coach Nicole Driggs. "We all knew it would be a 1-0 game or something like that. Our goals haven't changed, we still want to win the WBL. It looks like the best we can do is a tie now, so we have to regroup and refocus our efforts on what we need to do."
A 1-0 game is what most fans were expecting and that's exactly what they got as Bath manufactured its run in the fifth frame to pull out the victory.
Alyssa Maag led off the fifth for Bath with a double into the right-centerfield gap. Maag then advanced to third base after a wild pitch and then scored on an infield single by the speedy Amanda Ricker. It appeared that Ricker was out at first on the throw from Celina second baseman Abbey Zacharias to Allison Braun, but the umpire ruled otherwise.
It looked like Celina was going to grab an early lead with runners at second and third and just one out in the first inning when Allison Braun ripped a grounder to the left side of the infield. Braun's screamer hit Homan while she was on her way to third base on the potential two-run single, but Homan was called out after the ball hit her and Audrey Harner was then called back to third base on the dead ball.
"I think that play ended up being a real let-down for us," said Driggs. "We thought we had her (Snyder) there and we got shut down by our own hitter. Allison crushed the ball and it went right at Homan. That's frustrating because it was a pivotal moment in the game. From that point on, our bats shut down."
"We caught a break in the first inning, I guess it was just meant to be," said Ford.
That was the lone scoring opportunity for Celina as Bath's Shelby Snyder changed speeds effectively and allowed just three hits while striking out nine Celina batters.
"Shelby got stronger as the game went on and as she picked up more confidence," said Ford.
Laura Homan was no slouch on the mound for the Bulldogs limiting the Wildkittens to four hits while striking out nine.