Monday, June 9th, 2008
Bulldogs' championship run comes up short
Canfield shuts out Celina 6-0 in state title contest
By Gary R. Rasberry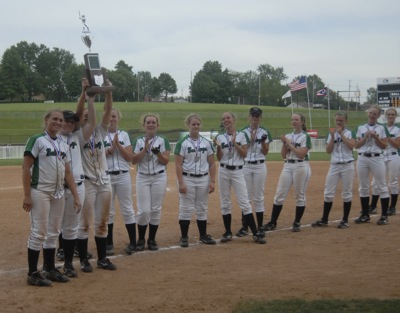 AKRON -Usually, the jitters come on the first day of state tournament play.
Unfortunately, Celina got them on the day they needed the nervousness to take a vacation.
Celina had an uncharacteristically rough defensive day and Canfield pitcher Tricia Bettura shut down the Bulldogs' offense, handing the Lady Cardinals their first-ever Division II state title with a 6-0 shutout of the Bulldogs at Fire-stone Stadium in Akron on Saturday afternoon.
Canfield (23-4) ends the season on a nine-game winning streak in its first appearance in the state final four. Celina, making its first showing at state since 1999 and looking for its first state title in softball, ends the season with an outstanding 24-4 record.
"This team has been unified all year," said Celina coach Nicole Driggs. "We win as steam and lose as a team. So, that's what basically happened today. We lost as a team. I don't know what more I can say."
The Cardinals, which entered the game having posted shut outs in 17 of their 22 wins, had allowed just two runs in the postseason. Bettura, a southpaw, was in form from the start as Celina did not get a baserunner to second base in the entire game and was held to just four hits as the Cardinals did not commit an error.
"It's not the first lefthander we saw. The first was against Parkway," said Driggs, referring to Parkway lefty Emily Crowell, who beat Celina in the second game of the season. "I told the girls a lefty is no big deal. It should be no different. I was a lefty hitter and I loved lefty pitchers. ... That just didn't seem to effect us, mentally. I didn't see that at all. It just seemed we couldn't connect and get the hits."
Errors hurt Celina early.
Melissa West reached first on an infield single that hit Celina pitcher Laura Homan and Homan's throw to try and get West at first was wild, moving the runner to second. Bettura followed with a single to score West to make it 1-0.
"In tournament play, the first run is always big," said Canfield coach Ronie Haurin. "It gives your kids confidence and I think it helps them settle into the game."
Canfield got another run in the fourth. Melanie West singled and Bryanne Halfhill doubled to put two on for Lauren Sullick, who grounded to second base on the infield. Celina second baseman Abbey Zacharias threw home, but it was just a little late to get pinch-runner Kasey McMurray, who beat the tag to make it 2-0.
Any chance for another late-game comeback like Friday's win over Dover were shattered as Canfield scored three times in the fifth to put the game away. Three straight singles with two away in the inning helped produce the final blow.
Celina committed three errors in the game, something that the Bulldogs had under control for most of the regular season and throughout the tournament.
"We were jittery," said Driggs. "We never seen so many Celina fans up there. Softball is a sport where in our biggest games, we're lucky to get 100 in our stands. It looked more like a basketball game. It's for both teams, I'm sure, it's their first state appearance. (Canfield) handled it better than we did."
Bettura, who struck out 10 and did not allow a walk, cruised in the seventh, getting Allison Braun to ground to first and Kinzie Gardner to strike out. Alicia Zacharias kept the inning alive with a single, but Bettura finished the game by striking out pinch-hitter Samantha Bertke to start the celebration.
"It doesn't get any easier," said Bettura about how the game progressed. "You have to focus on every single batter. The adrenaline really kicked in during the seventh inning. You have to focus on getting every batter out and not focus on the hits."
"Strong pitcher on the mound. Great pitcher on the mound," said Driggs of Bettura. "I'd say she's the best pitcher we faced this year."
Homan, potent on the mound all season, was battered for 13 hits and six earned runs (Homan had given up just four earned runs all season coming into the state final). Homan did not walk a batter and struck out seven to end the season with 195 strikeouts and a 19-3 record.
"One-through-nine, their hitters were strong," said Driggs. "Hats off to their coaches, their hitting strategy. Just seemed like consistent line-drive hitting, which is what we coach as well."
"We were looking through the scorebook and every senior got a base hit today," said Haurin. "It's been a senior year for us. They've been super leaders, been great role models for the younger players and I am exceptionally proud and happy for them that they finally got the state championship."