Monday, June 9th, 2008
Individuals tracksters shine on podium
By Bruce Monnin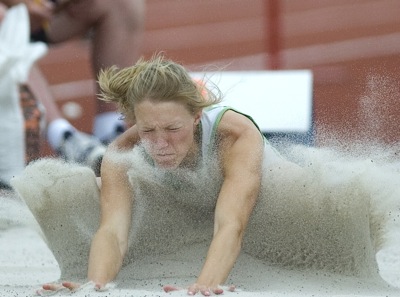 COLUMBUS - Aside from New Bremen's third-place finish at the state track meet in Division III, most of the other local highlights include individual performances by Grand Lake area standouts.
Many individuals and relay teams from the area managed to reach the podium of top-eight finishers at Saturday's finals portion of the state track meet.
Celina
Jacob Archer was the first Bulldog in action Saturday, but was unable to advance from the initial flights of the shot put competition into the championship round.
Julie Snyder and Eryn Langenkamp then tagged up to take two of the top eight places in the Division I long jump, with Langenkamp finishing sixth and Snyder seventh.
Langenkamp hit her longest jump of 18-21/2, which is her personal record, on her first attempt of the event. Langenkamp is actually something of a newcomer to the event.
"I've been in lots of different events," explained Langenkamp. "When I first started off in the long jump, I was happy to jump 15 feet. Then when I made it to 16 feet I was excited. The coaches finally put me in the long jump around the Western Buckeye League meet and we started working on it more and I started getting better," said Langenkamp.
Meanwhile, Snyder was a veteran of the event, finishing sixth at the state meet last year. On Snyder's second attempt, she posted her best mark of 18-2, 3/4 of an inch shorter than her effort last year at state.
"It was a little disappointing because I've done better," said Snyder, "But I made the podium and you can never be disappointed with that."
Snyder enjoyed competing with a teammate at state this time around.
"It helped me having Eryn there. She has a great personality and keeps you upbeat," said Snyder.
Snyder then proceeded to stand on the podium twice more on the afternoon, finishing sixth in the 100-meter hurdles and fifth in the 300-meter hurdles. It was Snyder's first visit to the finals in both events.
She was especially pleased with her performance in the 300 hurdles, where she finished 12th last year. This year she finished a second and a half faster.
"I figured I had nothing to lose," said Snyder. "I gave it all I had, left it all on the track."
Kelby Rosengarten followed with an eighth-place finish in the boys' 300-meter hurdles event, reaching the podium for the only time in his career.
"It felt great," described Rosengarten. "I never thought I would make it to the finals, so it felt really good to get on the podium."
Rosengarten exploded out of the block in his race and kept up with the leaders before fading down the stretch.
"I started out as fast as I could, but coming down the front straightaway I hit a couple of hurdles and that slowed me down," noted Rosengarten.

Coldwater
The Cavaliers had two girls competing in the Division II distance events.
First, was Ashley Kanney in the 800-meter run.
Kanney placed sixth as a sophomore, then after a year's absence, returned this year to place fifth. She fought with the leaders for the first half of the race.
"My time for the first half was really good," confirmed Kanney. "I started really fast."
She slowly fell back to fifth in the second half of the race, but had pushed herself so far that she had trouble staying on her feet after the race.
"I couldn't really feel my legs after I was done," Kanney explained. "It was a good feeling to know I gave it all I had."
A few events later, Ashleigh Kahlig celebrated her only career visit to the state meet with an eighth-place finish in the 3,200.
"It's my best time so far and I'm really happy I got it," state a happy Kahlig. "It was a great time to do it."
Early on, six of the runners in the race pulled away from the rest, and Kahlig appeared to run her own personal duel with Wauseon's Holly Baird for seventh place.
"She and I ran together last week," said Kahlig. "After the first six pulled away, I heard Holly coming up and I decided I couldn't let her go. I had to stay with her or I was going to lose it completely."
Minster
The Minster boys lone entrant on Saturday, was the 4x200 relay team of Ty Whitford, Sam Phlipot, Matthew Brackman and Albert Barga and all were sporting matching mohawk haircuts.
"It was our team spirit coming out through our hairdos," claimed Barga. "My mom did it for us as a way of bringing the team closer."
Despite the fashion faux-pas, the team placed fifth in the event. Running in the outside lane, Whitford kept the team near or in the lead after the first leg. Phlipot ran to near exhaustion, but still passed off to Brackman with his team near the lead.
"I was pretty tired at the end," admitted Phlipot. "But it was still probably our best handoff all season."
Brackman had the third leg and had the sensation of having some teams on the inside of him start to overcome the starting stagger.
"Being in lane eight doesn't help here. You are just waiting for them to come catch you," said Brackman. "When I handed off, I think we were still in front of everyone, but we had that last curve to go yet. That hurt us."
Barga brought the team home in fifth place.
As a whole, the weekend was good for the Wildcat relays, as they were sitting 13th in both relays (based on regional times) and ended up making the podium in both races.
Two Minster girls competed in the distance events. Jessica Albers was not expected to reach podium based on regional times, but she ran her personal-best time and finished in eighth to grab the last podium spot.
She faced a new sensation, as 15 of the 16 runners stayed in a tight pack for much of the race.
"Usually I feel like I am ahead of the pack. This time I was definitely boxed in," described Albers. "It was hard to get around everyone."
Averie Bornhorst then competed in the 3200-meter run and finished 14th.

St. Henry
Patrick Reichert followed up his second-place finish in Friday's long jump with a sixth place in the 110-meter hurdles, an event which he failed to advance out of the state semifinals last year.
It turned out sixth place (or better) was Patrick's goal for the race.
"Last year I was seventh as part of the 4x200 relay," explained Reichert. "I wanted to do a little better this year since it is my senior year."
Reichert credits part of his success to the high level of competition he faced all season.
"I see two of the best hurdlers in the state (Bryce Bergman and Waynesfield's Gray Horn) every other weekend. It is nice to have them to push me."
Carmen Moorman came into the 400-meter dash also looking to improve on last year's state performance. It was her third year at state in the event and she had never placed higher than ninth. She fulfilled that goal with a sixth-place finish.
"After three years of coming here, it was about time to get on the podium," described Moorman. "I hope to get up there next year too. I'm just going to have to work harder."

Parkway
Last year an opposing coach was heard to say the forte of Parkway is long jump and hurdles. Part of this was confirmed yesterday with Josh Fisher and Marian Bevington both visiting the podium after placing in the long jump.
Saturday, Bevington drove home the point with a third-place finish in the 100-meter hurdles.
"It feels pretty good. I'm happy with my third-place finish," declared Bevington. "I thought I had a good race. I felt really good."
Bevington was able to meet one of her goals by improving one spot on last year's fourth-place finish as well as knocking 0.15 seconds off last year's time.
"I just wanted to place better than I had before," said Bevington.
Fisher finished sixth in the long jump on Friday.

Versailles
The Tigers also had several athletes in action. The most successful one was senior Mary Prakel.
In her first race she finished fourth in the 1600-meter run.
"I was excited but not ecstatic about my performance in the 1600-meter run, so I wanted to do better in the 3200," proclaimed Prakel.
And she did indeed do better in the 3200-meter run, running in the top three throughout the race before pulling away for the championship on the last lap.
The Versailles boys scored with two relays. The 800-meter relay team finished in eighth place, while the 400-meter relay took home the medals for fifth place.