Friday, June 13th, 2008
Three priests retire after long service to local communities
By Shelley Grieshop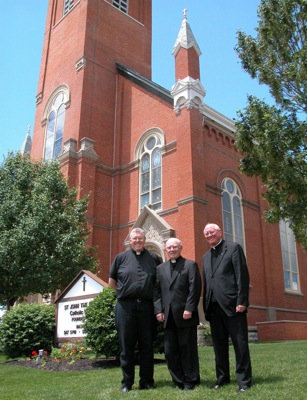 MARIA STEIN - In the small Catholic communities that dot the Grand Lake area, parish priests are much more than men who dole out Holy Communion each Sunday.
They are invited guests at baptisms and graduations, hold hands with families struck by tragedy, and on most Saturday nights can be found saying grace at the request of a new bride and groom. This time of year it's not unusual to find them beneath a ballcap cheering for local athletes at dusty baseball games.
Because of their close ties to the people they serve, they often feel a heavy loss when it's time to move on.
"It'll be an adjustment," says the Rev. Ken Schroeder, senior pastor of the Marion cluster of churches who is retiring as of July 1. "I'll really miss the people here."
Joining Schroeder in retirement this summer are two other area Precious Blood priests: Rev. Harry Cavanaugh, who is the Marion cluster associate priest, and Rev. Larry Wyen, the St. Henry senior pastor.
Schroeder, 71, an Ottawa native who was ordained in 1965, is in his seventh year as pastor of the five parishes in the sprawling Maria Stein area. As a young priest, he taught in two Catholic schools and guided seminarians into the priesthood. Prior to coming to the Marion Catholic Community, he spent 22 years on active duty with the U.S. Army.
The Maria Stein-area appointment was his first-ever civilian assignment in a parish, and Schroeder quickly became one of the locals. The German Catholic residents - known for their slow acceptance of newcomers - welcomed the towering priest and his famed hugs with open arms.
Schroeder and Cavanaugh have shared a good rapport with the local youth. Tragedies - like the recent traffic deaths of four young men - tested their faith and left them to mourn alongside congregation members.
Several years ago the pair began inviting Flyer athletes to Friday morning Mass, followed by donuts and juice. The students came in droves and the priests relished their time among them discussing game plans and life goals.
"The older citizens were impressed that all these kids were coming to Mass before school," says Schroeder, who continues contact - mostly by e-mail - with many Marion Local graduates. Cavanaugh, who will be 80 next month, loves the Flyers, too, but hasn't forgotten his native city of Pittsburgh. Students and adults often rib him about his beloved Steelers, the Penguins and every other Pennsylvania team he follows.
Although short in stature, his kindness has left a big impression in the area parishes where he's served, including Sharpsburg, Burkettsville and Celina. His proudest moment during his five years at the Marion cluster was an invitation to give the invocation at the Ohio Statehouse in March 2007.
"I gave a rundown on Helen Keller. They listened pretty well," he says with a boyish smile.
Wyen is leaving the St. Henry cluster of five parishes after nearly 15 years and now will help out at the Marion cluster on a part-time basis. He has worked side by side with leaders in the community to successfully establish a program to train lay people - a much-needed focus due to the lack of priests, he says.
"It's really paid off. We now have more qualified people to do the job," says the 66-year-old.
He speaks highly about several parishioners who organized a successful missionary program and an amazing youth group that continues to entice a large number of teens into religious activities.
"They've all been such a godsend," he says.
Wyen first taught at the former Brunnerdale Seminary, but admits he wasn't cut out for the job. Later, he taught literature and international studies at the college level and then took an inspiring sabbatical in Israel before becoming a parish priest.
"I got a whole new sense of Jesus while I was in Israel," he says. "I felt so blessed, it really changed my way of preaching."
He left home as a Minster eighth-grader to become a priest and is happy to again be residing in the Auglaize County community where he cares for his 87-year-old mother. He loves to teach and has taught theology and other studies for the Cincinnati Archdiocese while serving at St. Henry. He plans to continue the work.
Schroeder and Cavanaugh are moving to St. Charles Center in Carthagena where numerous Catholic priests from across the U.S. spend their retirement years. And since all three priests aren't going far, they hope to stay in touch with the people who've "adopted" them into their families, they say.

Open houses:
The following open houses will be held to celebrate the retirement of the Revs. Ken Schroeder and Harry Cavanaugh from the Marion cluster of Catholic churches and for the Rev. Larry Wyen of the St. Henry cluster:
• 1-4 p.m. June 22 for Revs. Schroeder and Cavanaugh at the Knights of St. John Hall in Maria Stein.
• 1-3 p.m. June 29 for Rev. Wyen at the St. Henry American Legion Hall.

Catholic church leadership changes:
• Marion cluster (St. John the Baptist, Nativity of the Blessed Virgin Mary, St. Rose, Precious Blood and St. Sebastian): The Revs. Ken Schroeder, senior pastor, and Harry Cavanaugh, associate pastor, are retiring effective July 1. The Rev. Eugene Schnipke, a retired U.S. Air Force chaplain, will become senior pastor of the five parishes. The Rev. Larry Wyen, who is retiring from the St. Henry cluster, will serve part-time.
• St. Henry cluster (St. Henry, St. Aloysius, St. Bernard, St. Francis and St. Wendelin): The Rev. Larry Wyen will be replaced in August with the Rev. Tom Hemm, currently serving in Ottawa. The Rev. Tony Fortman will continue to serve part-time for one more year. Associate pastor is the Rev. Benedict Magabe of Africa.
• Coldwater cluster (Holy Trinity, St. Anthony, St. Mary): The Rev. Dan Schmitmeyer, who has served the cluster for two years as associate pastor, will leave July 1 for his new assignment at Holy Angels, Sidney. The current senior pastor, the Rev. Rick Walling, will receive help from former senior pastor the Rev. Ron Wilker.