Friday, June 13th, 2008
Former Mariner will lead the way
By Ryan Hines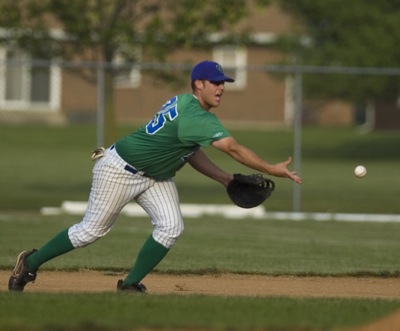 The Great Lakes Summer Collegiate League got a face lift over the past year.
There are still the same 11 teams playing in the wooden bat summer league, but only two of those teams are bringing back the same manager. Only Lima's Rob Livchak and Columbus' Brian Mannino return to their respective teams.
Grand Lake is one of the nine teams that will be led by a new manager as Zach Schmidt replaces Scott French as the skipper for the Mariners.
Schmidt shouldn't be a complete stranger to loyal followers of the Mariners, as he was an infielder for Grand Lake back in the summer of 2002.
"I kind of had a relationship here from when I played here in 2002, so the adjustment period should go pretty quickly," said Schmidt, who mainly played third base but also played some shortstop for the Mariners in 2002. "I remember my host family being great back in 2002 and I'm staying with them again this year. The community involvement here is tremendous and it makes it easy for the guys to come to play everyday with the support that the Mariners get from within the community."
Managing instead of playing will be a new challenge for Schmidt, but he's confident and ready to get the summer underway.
"It's always just fun to be out on the baseball field and to be involved in baseball and teaching about baseball," said Schmidt. "I'm looking forward to these guys playing here and getting better each and every day."
Schmidt played collegiately at Miami (OH) University (from 1999-2003) and went on to play professionally in the Independent Frontier League for the Florence Freedom Professional Baseball Club (2004-2005).
Since his playing days, Schmidt has been and currently is an assistant at Xavier University working with the Musketeer infielders and hitters.
Schmidt may be new to managing, but a couple of veteran Mariners don't notice much of a difference between their first-year manager and French, who guided Grand Lake in each of the past two summers. French, who is currently working with Indiana high school baseball players, helped the Mariners win the GLSCL tournament title two years ago.
"Coach Schmidt seems a like a great guy so far since we've been here together," said Brooks Hunton, who is playing in his third season for the Mariners. "He's kind of the spitting image of the way Frenchy was the last couple of years. I don't notice much of a difference between the two as of yet, just looking forward to a fun summer playing for him."
"Both coaches are great, in Frenchy and coach Schmidt," said Mike Stalowy, who is with the Mariners for a second straight summer. "I still talk with Frenchy and I think coach Schmidt knows a lot about baseball and I think that we're all looking forward to playing for him and learning from him."
Both Hunton and Stalowy spoke highly of coming back to play summer baseball in Celina.
"It's a great feeling to be back here, because the people are just tremendous," said Hunton, the Grand Lake first baseman. "It's (Celina) a perfect town to come play summer ball in. The Mariners get good support and I've had a great time here the past two years. It should be another fun year here."
"I like coming back here to play during the summer because of the atmosphere here in the Celina/Coldwater area," said Stalowy. "It's a great league with tremendous competition and the community support is great for our team here with the Mariners. It's a fun place to play and that's why I came back this year."
Schmidt may lean on the veteran players like Hunton and Stalowy as leaders until the newcomers fully adjust to what the GLSCL has to offer.
"They guys that have played here before are going to be the leaders of our team, especially early on as the new players adjust to the wooden bats and the atmosphere of playing summer baseball," said Schmidt.