Thursday, June 26th, 2008
Klenke, Harlamert take top Grand Lake baseball honors
By Gary R. Rasberry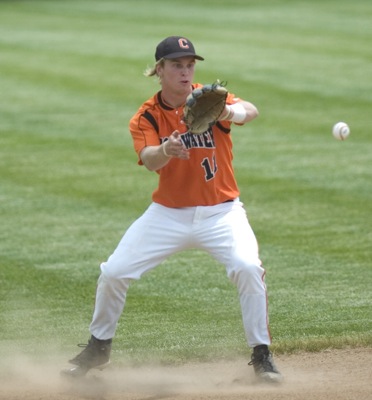 When deciding the contenders for The Daily Standard's Grand Lake Baseball Player of the Year, there were plenty of candidates, with the top two being Coldwater teammates Ryan Geier and Cory Klenke.
In the end, Klenke, who not only used his bat, but also his work on the mound to heavily contribute to the Cavaliers' run to the state final four, got the nod for the area's top honor.
The Cavaliers made it a clean sweep as Cavalier coach Brian Harlamert took Coach of the Year honors for guiding the Cavaliers to a perfect Midwest Athletic Conference record and the program's third trip to state in his 11-year tenure.
The Coldwater junior, a starter at shortstop his first two seasons, was already known to be a potent hitter and pitcher in the lineup, but early elbow troubles caused him to see limited time on the mound, allowing classmate Bill Geeslin to step into the ace role while Klenke worked his way back.
"I had a bothered elbow with tendinitis from the beginning of the season on," said Klenke. "Early on in the season, it's colder out and muscles take a while to loosen up, if they're even able to loosen up. ... Toward the end of the year, it got warmer and my body felt so much better and my command of my pitches began to improve.
"Me and Bill, what more can you say? We wanted to go out there and just battle for our team each game. That was what was important to us: giving our team a chance," added Klenke.
The big change for the Cavaliers came early in the season, when Harlamert moved Klenke from the leadoff spot in the batting order and switched him with Geier, who was in the three-hole.
Geier took off immediately, batting nearly .700 during a long stretch of the season and was over .600 during the tournament run before finishing the season with a .554 batting average.
Klenke moved into his role from run-maker to run-producer with ease. While his batting average of .400 was lower than last season's .465, Klenke drove in 43 runs and scored a team-high 39 runs. Klenke also slugged 13 doubles and belted six home runs to pace the Cavaliers.
"It helped big time," said Klenke. "When I was in the leadoff spot the last couple of years, you were the guy scoring all the runs and getting on base whenever you can. When I switched to the three-hole, it was one of the greatest moves we could have done, just by the way Ryan was hitting. The way he continued to hit from the one-hole was huge. Moving to the three-hole, I was the same type of hitter. I saw a little different type of pitching and was getting walked a little more, but I'm the run-producer guy to get those RBI. It all starts with the top two guys (Geier and Tony Harlamert) to get in scoring position and the 3-4-5 guys (Klenke, Keith Wenning, Keith Schoenherr) to score them.
"I really didn't change anything at the plate. A couple different situations I changed. Whether to get the ball to the right side (of the field), a fly ball to the outfield for a sacrifice, whatever it was. I tried to go more for base hits because I feel confident enough to get the base hit rather than just get the bat on the ball."
"Play today, win today" helped Harlamert lead team
A member of the 1987 and 1990 state title teams under legendary coach Lou Brunswick, Harlamert worked hard to get his team back to the state semifinals for the first time since 2004.
"The success we had this year goes back to our five seniors and the way they decided to focus, mainly, on playing hard every day," said Harlamert, referring to seniors Geier, Schoenherr, Kyle Ahrens, Jordan Borgerding and Justin Goubeaux. "Yeah, their goal was to definitely get to Columbus and win the MAC, but I think they realized to get there, they had to play each day one at a time; play today, win today."
Harlamert also gave much of the credit of the program's success to the varsity assistant coaches: longtime pitching coach Jason Hemmelgarn, Mike Moorman, Travis Ahrens and Mike Klenke. Harlamert coached all of the assistant coaches except Hemmelgarn, who was a teammate of Harlamert for two seasons, as well as coaches helping the junior varsity and freshman programs.
"Jason and I have been doing this for 7-8 years," said Harlamert. "A lot of the success has to go to the coaching staff, Jason, Mike, Travis and the jayvee and freshmen coaches. I think it's something that, the awards we receive and me being coach of the year, it goes back to my staff and our program."
Harlamert's mantra of "One game at a time" echoed through the team, which had suffered some tough losses at the district level the past several seasons.
One thing that helped Harlamert in coaching this season was talking to longtime Coldwater football coach John Reed and observing Reed's work on the football field.
"It comes from, in my experience as a coach, looking back over the last couple of years and (you're) always looking ahead too much," said Harlamert, who has 227 wins in 11 seasons as coach of his alma mater. "I focused last summer and was able to realize you just cannot look ahead. That was a big key for me personally as a coach and person.
"Then to talk a lot to John Reed. I talked to John and watched him coach, watch his demeanor and how he leads his group of guys on the field and his coaching staff. Worry about today's job first, don't about anything you do tomorrow before the day is over. A lot of that is my personal growth and talking to coach Reed."
With a number of the baseball players being veterans of the football program, the message wasn't that hard to move from football to baseball.
"From our first meeting, we established that goal way back when, not in June or during February practices and back before that with guys not playing basketball or football. We had guys working out all year long. That just kind snowballed into our theme about being able to play today, win today."