Saturday, June 7th, 2008
Celina playing for state championship
Bulldogs score five runs in final two innings to rally past Dover
By Gary R. Rasberry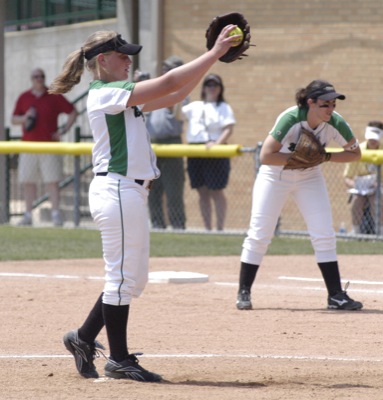 AKRON - It took five innings for Celina batters to figure out Dover pitcher Kristen Moreland.
When they did, everyone got into the act.
The Bulldogs took the lead in the sixth inning, then put the game away in the top of the seventh to defeat the Tornadoes 5-1 in the Division II state softball semifinals at Firestone Stadium in Akron on Friday.
The win puts Celina (24-3) in the state championship game for the first time ever. The Bulldogs play today at 3 p.m. against Canfield. The Cardinals (22-4) defeated Clyde 4-1 in Friday's first semifinal.
"Wow! What a game," said Celina coach Nicole Driggs. "The intensity was there from both teams. The fight was there for both teams. At times, it seemed like the odds were against us. Everyone out there could see our girls had no regrets. Our heart was laid out there on the field today. A total team effort. When one is down, we pick the other one up. I'm just so proud of these girls today."
Moreland kept Celina hitless for the first 3 1/3 innings before Allison Braun doubled for the first Celina hit ever in the state semifinals. Celina had chances to score in the third and the fifth, but could not bring anyone home.
Celina ace Laura Homan did her best to keep the Tornadoes from scoring, but Dover drew first blood in the second. Lindsay Limbacher led off the inning with a walk, but pinch-runner Ashton Scott was forced out at second on Andrea Larkin's fielder's choice. Emily Milles then grounded to shortstop Audrey Harner, but Harner's throw to get the force at second ended up in centerfield, allowing Larkin to dash home and score making it 1-0.
After that, Homan showed why she was one of the best pitchers in Northwest Ohio, retiring 13 straight batters at one point, walking just one and striking out six.
"I just tried to hit my spots and keep my movement," said Homan, who raised her record to 19-2 and lowered her ERA to 0.20. "All my infielders made the plays (19 of the 21 outs were either groundouts or strikeouts). I just threw whatever I could and they got the job done for me."
Celina, meanwhile, kept trying to figure out Moreland. In the fifth, Abbey Zacharias reached base on a one-out error and was on third with two outs when Sara Dorsten blooped a single into short left. Larkin fired a throw to catcher Marcie Kiser, who got the tag on Zacharias to end the inning.
Then in the sixth, Celina got the timing down. Harner, who was injured in the third and moved over to play first base to stay in the game, reached on an error and was pulled for pinch-runner Cassandra Chittum. After Homan moved Chittum up to second, Allison Braun singled to put two on for Kinzie Gardner, who flied to right to move the runners up for Alicia Zacharias.
Batting just .100 on the season (3-for-30), Zacharias singled to right, scoring both Chittum and Braun to put Celina ahead 2-1.
"We knew coming in they had some good batters," said Dover coach Jen Pfeiffer. "Sometimes, they had a couple of good shots and that's what you need just to get your ball club going. They really hadn't timed her up until then."
The big burst came in the seventh as Celina sent eight batters to the plate, scoring three times. Homan helped her own cause with a two-run double and Harner legged out a single to score another run. Celina collected five of its nine hits in the inning.
All that remained was for Homan to close things out, getting Limbacher ground out to Tabitha Knous for the first out and striking out Larkin. Mills snapped Homan's consecutive out streak at 13 with a single, but Homan came back and got Kiser to look at strike three to put Celina in the state finals.
"Hat's off to Celina on a fantastic season," said Pfeiffer, whose team ends the season at 19-12.. "They're a great ball club. We wish them luck tomorrow. We're disappointed that we weren't able to move on tomorrow, but we are very proud of our kids."
Now Celina faces Canfield, whose pitcher Tricia Bettura struck out 10 Flier batters in a four-hitter in the other state semifinal matchup.
"What we saw in Canfield is, really, what we saw in the Western Buckeye League," said Driggs. "We've already seen it before. We have the WBL to thank for that. They've been competitive all year. Every team knows in the sectional tournament it's hard to get out."
Driggs is confident that Celina will bring back its first-ever softball state title and just the second team state title in school history.
"It's all about containing our own game out there and doing what we do best," said Driggs. "We're scrappy, work hard, pick up each other and do what it takes. I have no doubt that we'll come out of here with that victory tomorrow. It'll be a good time and a good bus ride home.
"They really want to make Celina proud. We talked a lot about that," said Driggs. "We're just a little town on the outskirts of the Indiana border. Lot of farm girls on our team. We have a wonderful community."
HOMECOMING: A homecoming celebration will take place on Sunday at 1 p.m. at the Celina High School Gymnasium.