Monday, July 14th, 2008
Mowing down the obstacles
By Margie Wuebker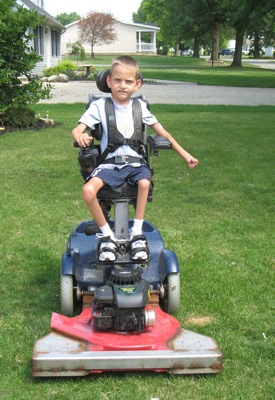 ST. MARYS - Dylan Everage is a young man on a mission with lawns to mow and goals to achieve.
A smile tugs at the corner of his mouth as he drives across the grass aboard a combination wheelchair/zero radius lawn mower. Abby, the family's Lab/Pointer mix rescued from the animal shelter, watches patiently from the porch knowing a walk through the neighborhood is next on the day's agenda.
Dylan, a sixth-grader at East Elementary School in St. Marys, considers himself a typical 12-year-old boy. However, he deals with significant challenges like cerebral palsy, which keeps him wheelchair bound.
With more than 80 surgeries to his credit, he faces additional hospitalizations in the coming weeks for installation of a pacemaker to regulate his heart rate and amputation of his left leg to make a day without pain reality instead of a dream.
"I have wheels to take me where I want to go," he says with a mischievous glint in his eyes. "Who needs a leg that does nothing but hurt."
Dylan, the son of Matt and Cara Everage, began carrying his own weight chore wise at the age of 11. The Everages see no reason to coddle their only child or to give in to his every whim.
"He has to work for what he wants like other kids," his father says. "His legs may not work but his mind sure does."
The ambitious youngster began mowing lawns two years ago. Initially, his father hooked a self-propelled mower to the battery-powered wheelchair with a bungee cord. The process worked fairly well until Matt and cousin Bobby Francis took the next step.
Now a mower deck attaches to the front of the wheelchair with sturdy, custom-designed pins. The new design makes for greater maneuverability and allows Dylan to watch the progress of the mower without turning around.
"He does the front lawn and I do the back, which tends to be a little more hilly," his father says. "The next project could be an attachable blade so he can freeze his butt off plowing snow with me. After all, we are a team."
Dylan rolls his eyes in teasing fashion before pointing out in no uncertain terms that dad is no angel. He remains "ticked off" that his dad mowed lawns for his customers - a Pershing Drive neighbor and two people in town - without telling him.
Cara explains that Dylan is recuperating from oral surgery that removed four teeth. Pain medication and operating a lawn mower do not mix, she says.
The youth also collects aluminum cans around the neighborhood and his dad periodically takes them to a recycling center. All money realized through the effort goes into the bank along with his lawn mowing proceeds.
"I'm saving for a laptop computer and a cell phone," he announces proudly. Oblivious to his mom's comment about lofty goals, he adds matter of factly "I will be getting them one of these years."
Dylan knows there is more to life than work. He enjoys camping at Grand Lake St. Marys State Park with family and friends, helping his uncle carry firewood, spending time with the park naturalist, fishing and attending Garden of Love Old Regular Baptist Church in St. Marys.
He may be a diehard Ohio State Buckeyes fan, but his bedroom proclaims unwavering loyalty to the hometown St. Marys Roughriders in blue and gold fashion. However, he points out in no uncertain terms that school appears nowhere on his list of favorite things.
His goal is to work in a hospital someday, drawing from his own experience to answer questions and allay fears.
"I've been to the ER (emergency room) and back several times not to mention hospitals in Ohio and Michigan," Dylan says flashing a smile. "All those experiences should help me help others."