Monday, July 14th, 2008
Pittman takes advantage of Saldana blown tire
By Jim Morrison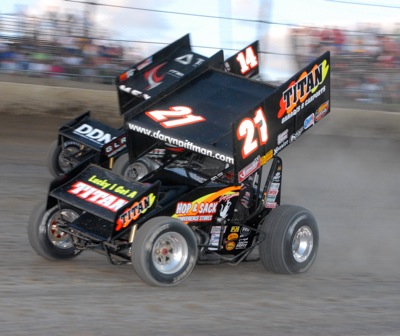 ROSSBURG - For the second time this year, a blown tire cost Joey Saldana a victory on the high banks of Eldora Speedway.
But, Sunday night's misfortune on the 27th lap handed a $50,000 paycheck to Daryn Pittman for winning the prestigious 25th annual King's Royal.
Pittman, almost speechless in victory circle, believed he would have been unable to catch Saldana without the early leader suffering some type of mechanical problem. After taking the lead, Pittman concentrated on keeping the car straight until the checkered flag was waved.
"I knew the 14 car (Jason Meyers) was definitely there and probably had a faster race car," said Pittman.
Although he had early concerns about the team's tire selection, Saldana's flat was not worrisome for him. Pittman observed that the leader's tire was showing little wear and speculated he must have cut a tire. Saldana crew members also suspected their driver cut a tire, possibly on something buried in the track during an accident earlier in the evening.
"Joey is awesome here," said Pittman. "He is one of the current best at Eldora, if not one of the best of all time. He runs this place like no other. He runs up above it (the cushion) a lot and unfortunately you run over stuff occasionally when you do that. Unfortunately, it bit him."
Saldana was quicker than Pittman on an open track. When they first encountered lapped traffic, Saldana lost some speed trying to work around the slower cars.
"I got real excited," said Pittman. "I thought I was going to slide him for the lead as the red came out."
When the race restarted, Saldana did not allow Pittman another opportunity to pass. After inheriting the lead, Pittman hoped for a late race yellow to bunch the field and deny Meyers an opportunity to pull the same move he himself had tried earlier on Saldana.
"I didn't think that in open traffic he would have the speed to try to slide me," said Pittman.
Instead, Pittman found himself behind the slower cars of Rob Chaney and Brian Paulus and facing one of his biggest decisions of the race. If he tried to pull off a slide job, it would kill his momentum. If he maintained his line, it could give Meyers the chance to snatch away the victory.
On the white flag lap, Pittman put a slider on the slower cars. It worked, though he did see the nose of Meyers' car before pulling away.
"Luckily, it was the right decision," said Pittman.
Though Pittman collected a $50,000 check and a new four-wheeler from Artic Cat, he said a dollar value could not be placed on joining the list of King's Royal winners which includes some of the top sprint car racers of the last 25 years.
"To be able to put my name along with those is way better than money, way better than the four-wheeler and way better than the trophy," said Pitt-man, who noted among those names were childhood heroes Doug Wolfgang and Sammy Swindell.
Saldana, from Brownsburg, Ind., has two wins at Eldora Speedway this season including Friday night's World of Outlaws feature that opened the King's Royal weekend. He was leading the main event earlier in the year when he suffered another blown tire, handing the win to Craig Dollansky.
The victory in the King's Royal gives Pittman wins in some of winged sprint car racing's biggest events. He won the final Historical Big One at Eldora in 2003 and added the Gold Cup at Silver Dollar Speedway in Chico, Calif., in 2006.
It gives momentum heading into next month's Knoxville Nationals in Iowa and brightens the spirits of Titan Racing, which has struggled recently, according to Pittman.
Reeve Kruck, the team owner, joined Pittman in victory lane wearing a terra on his racing cap. The King's Royal winner is crowned during a ceremony initiated by track founder Earl Baltes when the event was created 25 years ago.
"It was a huge accomplishment for our whole team," said Pittman. "To say we were underdogs coming into the weekend would be a major, major understatement."
The race was originally scheduled for Saturday night but thunderstorms forced a postponement until Sunday, the first time the King's Royal had been conducted on that day of the week. Pittman said he much preferred the Sunday date to the one in September that was also considered by track and race officials.
A big disappointment for Pittman was that his father was not at the track to witness it. His mother was to be at the Indianapolis airport at 5 p.m., Sunday and his father opted to be with her.