Wednesday, July 16th, 2008
Stopping traffic in Rockford
Police get second looks and waves as they do their duty
By Janie Southard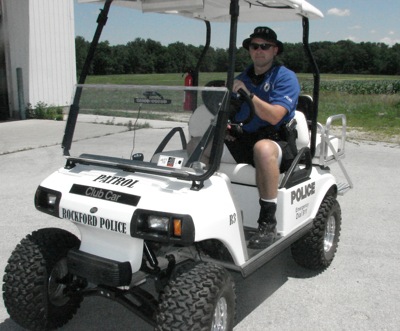 ROCKFORD - Picture this true story. A semitrailer was pulled over recently at the westward turn on U.S. 33 at the village truck stop. It was an engine brake offense and the semi driver seemed to be in a state of disbelief as he poured a cup of coffee inside the truck stop.
"I saw the lights, but I didn't know I was getting stopped by a golf cart," he told a truck stop employee. Possibly the driver used more colorful language in describing the incident, but that's another story.
Rockford Police Chief Paul May chuckles as he tells the above story while cruising the village in the new police vehicle.
"You know, it's the law that you must stop if signaled by a police officer," May says not needing to add "no matter in what conveyance that officer may be traveling."
The golf cart gets up to 100 miles to the gallon of gas and has used just 3 gallons in as many weeks.
"It's strictly legal," he says of the tallish cart mounted 6 inches on its frame and equipped with ATV tires. It is prominently marked "Police" and sports headlights as well as flashing lights, not huge, but obviously enough to stop an offending semi. May says a longer light bar is on the list of improvements.
He says 90 percent of community comments have been positive, and he firmly believes it was $5,100 well spent.
People wave and yell funny comments but all in good spirit. Perhaps because the vehicle is open, the perception is that the officers are more accessible to townsfolk.
"We've been using police bikes too, but I'm telling you riding a bike all day takes a lot out of you. I'd like to know if these people who want just the bikes have ever tried to make a traffic stop on a bike," he says, adding the department has put mileage patrol limits on the cruisers in an effort to save fuel costs.
The police fuel budget for the year is $6,000. May says costs are more than doubling over last year and will easily exceed budget. Plus driving a cruiser two shifts a day burns up the engine a lot quicker. Should the cart motor need replaced, May says it would be only about $500.
Not only is the golf cart curtailing costs, but this zippy little vehicle can go where no cruiser has gone before, like down the walk/bike path to the new school and then behind it on the bumpy ground out to the ball fields.
May keeps up a conversation as the cart seems to whiz around the vertical bars on the walk path that keep larger vehicles at bay.
"The school is at the far west end of town and you can see how easily we can get out here if there's a problem without ever going on Route 118," he says, noting that patrolling the parking lot during sports events will be no problem.
"We can also sit in the school zone and run our radar ... The cart gives us accessibility and invisibility," he says, adding the usage report to council will be measured in hours not miles.
There are vinyl sides in case of a downpour, but Rockford officers say they'd rather get wet than smother. In other words, being encased in vinyl makes a hot day even hotter.
On or under the seat is a large duffel bag containing all the papers and equipment an officer would carry in a cruiser, except for stop sticks. Additionally, the officers are armed and have radios in the event a lawbreaker does not stop when signaled from the golf cart.
"We alert the sheriff or highway patrol with the information just like we do if anyone runs," he says.
Of course, if nothing else works to stop scofflaws in their tracks, Rockford officers could give the warning commonly used in a certain sport: FORE!!!