Wednesday, July 16th, 2008
State tourney next for Cavaliers
Geeslin pitches Cavs past Cougars for district championship
By Gary R. Rasberry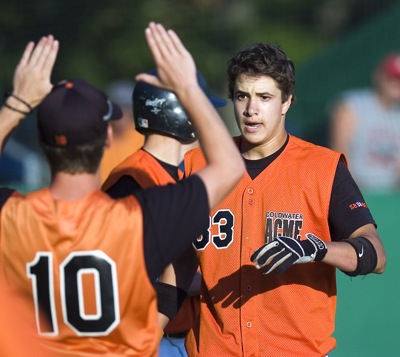 Coldwater will be going home with a chance to win a championship.
The Cavaliers' Bill Geeslin won a tremendous pitcher's duel with Van Wert's Eric Miller as the aptly-named Alex Winner drove in Jordan Woeste for the only run of the game in the bottom of the eighth inning as Coldwater captured the District 4 ACME Tournament championship with a 1-0 win at Montgomery Field in Celina on Tuesday evening.
The fast-paced game was concluded in less than 90 minutes.
The Cavaliers (19-3) will have a short route to the state tournament, as Coldwater's Veterans Field will host the 2008 Lou Brunswick State ACME Tournament starting Saturday. Coldwater will face the District 3 champion on Saturday at 5 p.m. Bath and Bluffton will play tonight at 6 p.m. at Ottawa-Glandorf to decide the championship. Van Wert ends a solid season at 14-11.
Geeslin, who last pitched an ACME tournament game on July 7 when he went nine innings in Coldwater's 6-5 10-inning win over Marion Local, put on a pitching clinic to keep the Cougars scoreless.
The senior-to-be needed just 81 pitches to scatter three hits and one walk while striking out 13 Cougars, including eight of the last 10 batters he faced. Geeslin got first-pitch strikes on 21 batters in the contest.
"We had heard their coach was trying to get them to take the first pitch," said Schwieterman. "So we told (Geeslin) to pound them with strikes. He's always around the plate."
Miller, while not striking out a batter, enticed Coldwater into 13 ground outs in the contest and did not walk a batter while scattering five hits along the way.
"We watched him before the game and he was sneaky fast," said Schwieterman. "He threw just enough curve balls to make us respect it. We swung at a lot of first pitches and made life easy for him for a while."
The best chance the Cougars had to score a run came in the fourth inning when Craig Thomas led off with a double to the leftfield fence. Back-to-back grounders to third baseman Keith Wenning only allowed Thomas to advance to third. After a walk to Jordan Scheidt put runners on the corners, Geeslin got Mitch Stauffer to ground to Alex Geier at second to end the jam.
After the fifth, Geeslin allowed just one baserunner, giving up a single to Brock Bell in the sixth, before retiring the last seven batters he faced, six via strikeouts. In the last two innings, Geeslin threw just 20 pitches, 19 for strikes.
"I felt pretty good," said Geeslin, who said he was ready to go for the ninth and 10th if needed. "All ground balls and no errors."
For the bottom of the eighth, Woeste hit a weak grounder to the third base side, but Miller overthrew first baseman Josh Bollenbaugh, allowing Woeste to advance to second.
Given Coldwater's prowess for bunting, many thought Winner would bunt. After offering bunt for a strike, Winner grounded a shot up the middle and into short centerfield. Woeste got a good jump at second and was waved home before using a head-first slide to get in safely as the throw was just a little late, giving Coldwater the win.
"Jordan was getting a good (lead) at second," said Schwieterman. "It wasn't a hard line drive or one bounce. Jordan got a good jump and we didn't think they had overpowering arms. ... They're a nice team."
"We thought coming in, 1-2 runs would win," said coach Dunlap. "We couldn't get the big hits at the right time.
"It was a classic pitcher's duel. Somebody was going to lose. Unfortunately, it was us."
Winner was the only player of the game to get multiple hits, going 2-for-3.
Now Coldwater gets an extended break before hosting the state tournament. Schwieterman, never at a loss for humorous lines, had a good idea how his team can spend the off-time for their games.
"We've got campers going out there in leftfield (beyond the fence)," said a smiling Schwieterman. "We'll get up and fix some eggs and sausage, jump the fence and play some ball. It should be fun. It's always our goal."