Thursday, July 17th, 2008
Local man gets 59 years in prison for rapes
Officials call Spring one of worst child rapists ever in Auglaize County
By Shelley Grieshop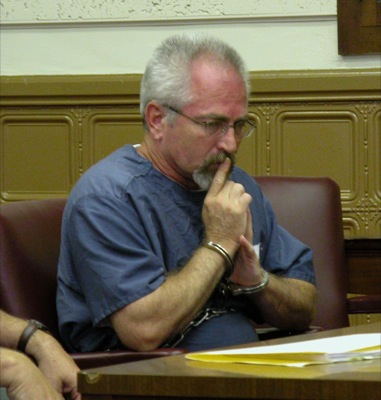 WAPAKONETA - Daniel Spring of St. Marys cupped his bearded chin in his hands minutes after a judge sentenced him to prison for 59 years for raping three girls hundreds of times during the past five years.
At age 50, the mandatory prison sentence without the possibility of parole was equivalent to a life sentence. Still, he showed little emotion.
"There's no real good way to say you're sorry," said Spring, who authorities have labeled one of the worst child rapists ever to be prosecuted in Auglaize County.
During court proceedings on Wednesday, Judge Frederick Pepple paused only briefly before sentencing Spring to the maximum prison sentence allowed by law -10 years for each of the five counts of rape, first-degree felonies. Pepple ordered the prison terms to run consecutively.
In May, Spring pleaded guilty to six counts of rape after Auglaize County Prosecutor Ed Pierce agreed to drop 12 other counts of rape. At that hearing, Pepple immediately sentenced Spring to nine years in prison for the single count of rape, then continued the remainder of the sentencing process for Wednesday.
The nine-year prison term was ordered to run consecutively to the 50-year prison term.
Spring admitted in court to raping the girls - ages 11 to 15 - on hundreds of occasions. Authorities believe there may be more victims.
None of the victims were present in the courtroom Wednesday.
Before sentencing, county Prosecutor Ed Pierce told the court there were three victims and "potentially two other indirect victims." He also asked the judge to consider Spring's relationship to the victims as an "authority figure." Pierce did not provide details for either statements in order to protect the identities of the victims.
Pierce told Pepple that Spring has shown no remorse for his crimes, particularly by his actions in court. Spring later replied to the allegation.
"That was stupid on my part ... that I didn't show it. I really didn't know what was going on," Spring said.
Pierce cited similar rape cases that were brought before the Auglaize County court and asked the judge to issue a prison term to Spring "in proportion" to those. He requested the maximum sentence allowed by law.
In reply, Spring's court-appointed attorney, Mark Weller, said each case is unique. He asked Pepple to consider that his client is 50 years old - much older than most of the defendants cited by Pierce who could serve their time, be rehabilitated and still have a life after prison. Weller reminded the court that Spring had no prior criminal history.
Pepple quizzed Spring about "close-up pictures" of children found on his computer. The specifics of the photos were not revealed by authorities.
"Did you take those photographs on your computer?" Pepple asked.
"Yes," Spring admitted before offering an explanation.
Spring said the photos were taken of young family members for identification purposes after the disappearance and subsequent murder of Amber Nicole Williams in St. Marys in 1996.
"The intention was to give them to the girls or destroy them. They were not used for ... it was never my intention ...," he said, not finishing the sentence.
Following sentencing, Pepple appeared disturbed and spoke only briefly to Spring before he was led away by a sheriff's deputy.
"There are some times when offenses are so serious and under such circumstances that there is really nothing that can be said that will be of any use," he said.