Wednesday, July 23rd, 2008
Cavs wear camouflage to remember those serving
By Gary R. Rasberry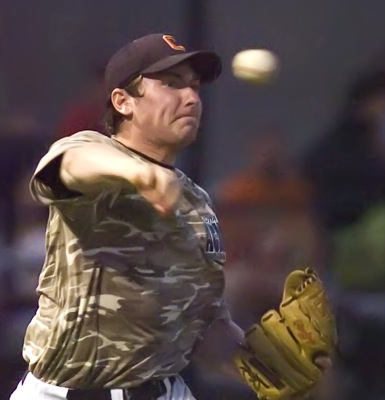 COLDWATER - While combat analogies are sometimes used to describe sporting events, Coldwater's breaking out the camouflage jerseys on Tuesday night was not a call to battle, but a tribute to past Cavalier ACME players who played for the summer baseball team and who are now serving in the military.
All season, the Cavalier ACME team has paid tribute to former players who are currently serving in Iraq in the Ohio National Guard and the United States Navy.
Brady Geier and Steve Borger are in the teams' thoughts as well as their uniform sleeves and hats as the initials BG (Geier) and SB (Borger) adorn the black shirts of their vest uniforms and side of their caps along with a small American flag.
On the wall of the Coldwater dugout, pictures of the former players are attached to a paper that has the words "Think it's Hot?" written on it with the temperatures that range from highs breaking 120 degrees to lows in the 90s at Geier and Borger's base in Iraq.
"We brought it up that we were up here on a Saturday afternoon and it's 95 degrees. These kids think they have it rough," said Coldwater ACME coach Romie Schwieterman. "We said 'You know, you think you have it rough. You come out here and play this silly game and we've got guys over there.'"
"This game's not life or death. Those guys are over there in situations that are. We had the weather forecast and one day the high was 125 and the low of 90-something, wearing their full-gear and carrying about a 60-pound pack. We say 'You got it rough? Think about these boys that are fighting for us so we can play this silly game and have fun."
The idea of breaking out the camouflage jerseys, something done in Major League Baseball by San Diego and Cincinnati, was brought up by Cavalier second baseman Alex Geier, a cousin to Brady.
"I thought it would be nice to remember the former players over there that are putting their lives on the line," said Alex Geier. "I figured if we do this, we can keep them in mind, knowing how hot it is and how hard they have it over there. Every time we're down, we think of that and build ourselves back up and play our best."
"Nut said something earlier around the Fourth of July when San Diego and Cincinnati had their camouflage on," said Schwieterman, referring to Alex Geier by his nickname. "Nut said something about it and I said it was kind of like force-feeding it right now, but if we get to state, we would. We kept forgetting after games to get sizes. After we lost (to Bath on Saturday), they said to do it. After Sunday's game, I can have them Tuesday."
Schwieterman, co-owner of McSports in Coldwater, worked fast to have the jerseys ready for Tuesday's game.
"We ordered them yesterday (Monday). I picked them up from UPS and the girls at the store worked on them (putting the team name, numbers and players' names on the back). They looked pretty good."
The team sported the new look during the game with Perrysburg, with the ever-witty Schwieterman looking to use the camouflage to his advantage.
"We said we should steal bases and hit-and-run because, you know, they can't see us," said Schwieterman with a grin.
Appropriately, it was another cousin to Brady Geier, Keith Wenning, who kept Coldwater's season going with a two-hit performance on the mound in the win over Perrysburg.
"We're going to (wear the camouflage) the rest of the tournament," said Alex Geier. "We want to go out there and play Saturday (in the state finals)."
The team is also keeping in their thoughts B.J. Loughridge, brother of longtime Coldwater ACME assistant coach Matt Loughridge.
B.J., who did not play baseball, is currently serving in an undisclosed location overseas as a member of the U.S. Navy SEALS.