Saturday, July 26th, 2008
Local swimmers ready to tackle Grand Lake
By William Kincaid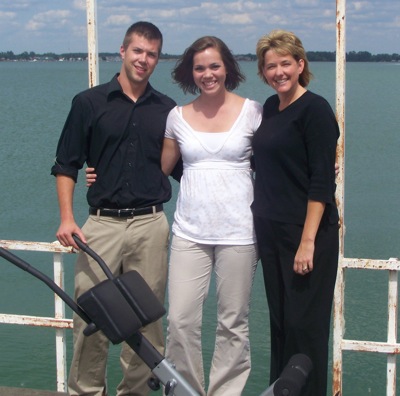 Swimming in Grand Lake is a much murkier and unpredictable affair than the usual pool outing. But three area amateur swimmers are taking on the largest inland lake in Ohio.
Julie Fleck, the 38-year-old owner of Bella's Italian Grille, Celina, and two of her summer waiters, 19-year-old Michelle Gehret, Fort Recovery, and 21-year-old Tyler Uhlenhake, Celina, will swim across the lake on Aug. 3 to raise money for school fitness.
Fleck and Gehret will become the first women to officially - and legally - swim across the lake, Fleck said.
"We've actually been swimming in the lake," Fleck said about preparing for the over 3-mile-long trek across the lake that will take the trio about three hours to complete.
It is equivalent to running half a marathon, according to Fleck.
"It doesn't taste as good ... not that the pool tastes good," Gehret said about the lake with a smile.
The three hope to secure at least $3,000 to purchase health equipment - such as medicine balls, jump ropes, a treadmill, dumbbells and various machines - for the Fort Recovery and Celina schools.
They also want to promote exercise and healthy lifestyles to combat the national epidemic of child obesity.
"I think it's important to start those habits young so you can maintain them for life," Uhlenhake said.
In addition to accepting donations for their efforts, Bella's will hold a special spaghetti dinner from 4-9 p.m. Monday, with all the proceeds going to finance buying the exercise equipment.
Fleck said she had to seek permission from the state before embarking on their swim. On Aug. 3 at 7 a.m., the three intend to swim from the Windy Point area to state Route 703 past Harbor Point, where Fleck's mother has a property.
The three, who plan on collectively pacing themselves, will not be alone.
"We're not out there stranded by ourselves," Uhlenhake said.
The state is requiring three boats, each manned with a certified lifeguard, spotter and driver, to follow each swimmer.
"They watch out for other boats," Fleck said about the spotters.
As long as there is no lightning on the morning they are to depart, the three will carry out their excursion - rain or shin, calm or rough waters.
"The earlier we go, the less chance of waves," Fleck said, adding there may be less boat traffic as well.
The trio's family and friends - including Uhlenhake's kayak-roaming father - will be on hand for support.
Fleck hired Uhlenhake and Gehret as summer waiters. The three soon learned they all worked out at Breakaway RecPlex in Celina and shared an affinity for exercise.
Uhlenhake is a junior at Miami University, Oxford, majoring in finance and marketing, while Gehret is a sophomore at the University of Dayton studying exercise science. She wants to become a personal trainer.
"It was one of the reasons I hired her," Fleck said, adding that Gehret is her personal trainer for the summer and helped her lose 20 pounds since May.
The three have spent the summer preparing at Breakaway - weight training to build their muscles, doing cardio work to improve their lung capacity and, obviously, swimming.
Fleck was on swim teams in the past but neither Gehret nor Uhlenhake had swum laps before. The three practiced a few times each week in the pool and have recently been swimming in the lake.
"We've definitely all improved our fitness," Gehret said.
The three have practiced in both calm and rough waters. During heavy waves, Fleck said they must swim downward through the waves to conserve energy.
"You look down, you can't see anything," Uhlenhake said about the lake.
They also plan on drinking water or sports drinks administered by those on the boats. Dehydration from swimming can occur as water removes the oils from the skin, Fleck said.
But the three, using a strategic combination of free-style and breast-stroke, want to make it across without stopping.
"That's the goal," Uhlenhake said.
Excluding an unpleasant swimming experience in a channel, where Gehret was perturbed by fish and the submersion of her feet in the sludgy bottom, the three said they have made the transition to lake swimming fine and are excited about their forthcoming adventure.