Saturday, July 26th, 2008
Cavaliers advance to championship game
By Gary R. Rasberry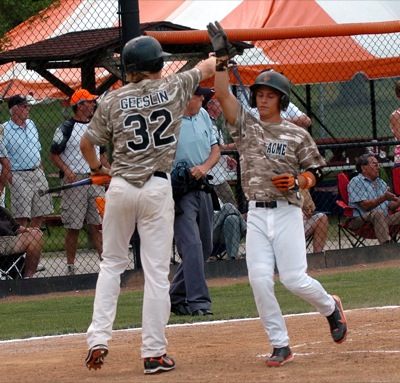 COLDWATER - After the loss in their opening game of the state ACME tournament, Coldwater coach Romie Schwiterman gave his team the old "We've got them right where we want them." speech.
Apparently, it worked.
The Cavaliers worked their way out of the elimination bracket to advance to the state title game for the third time in four years with a 9-3 win over Patrick Henry in the losers' bracket final on Friday at Veterans Field at the 2008 Lou Brunswick State ACME Tournament.
Coldwater (23-4) plays Northmont (22-6) at noon today in the state title game. If Coldwater wins, a second, winner-take-all game will be played at approximately 2:30 p.m.
"We got beat Saturday (by Bath) and right after we said we got them right where we want them," said Schwieterman. "Seems like 'Mission: Impossible'. but we explained that (in 2003) when we got beat by Bath in the semifinals at Piqua, Bath had lost the first game of sectional, the first game of district and first game at state and won the whole thing (beating Defiance twice in the title game).
"We were at the point where we had nothing to lose, because this is our home field. It's good for the park and our town. We felt like we had nothing to lose. Just go out, have fun, hustle and see what happens."
The Cavaliers wasted no time getting on the board, sending nine men to the plate in the bottom of the first to take a 5-0 lead. After back-to-back doubles by Chad Westgerdes and Tony Harlamert stated the scoring, Adam Rammel drove in Harlamert with a single, followed by a two-run single by Briar Miller that scored Keith Wenning and Rammel. Miller came home when a throwing error on a fielder's choice went to the fence past first base.
"We fell behind early and got us even more flat, I guess," said Patrick Henry coach Ben Botjer. We couldn't come back. Couldn't put runs together."
The hot start gave Colin Paynter plenty of confidence. The Patriots (16-7) loaded the bases with one out before Paynter got Kasey Spence to strike out and Mitch Leonard to ground to second to end the threat.
"Colin's had trouble throwing strikes, so we thought we'd get out in front, that might help, and it did," said Schwieterman. "He didn't tack on any gray hairs on my head because there's no more, but he darkened the gray a little bit."
Paynter kept Patrick Henry scoreless until the fourth when Brian Kline led off with a double and scored on Spence's sacrifice fly to right.
Coldwater added runs in the third and fourth, chasing Patriot starter Tyler Phillips in the fourth, before scoring one more in the bottom of the sixth.
The Patriots got another run in the fifth and had runners on second and third with one out when Schwieterman called for closer Alex Geier to come on. Geier gave up the run on a ground out, but prevented more damage. In the seventh, Chris Boyer led off by reaching on an error, but Geier enticed Cody Meyer to ground into a 6-4-3 double play before getting Austin Bower to fly to Westgerdes in center for the final out, the sixth putout for Westgerdes in the contest.
"We came out flat," said Botjer. "They outplayed us."
Harlamert went 3-for-4 with two runs scored for Coldwater. Miller went 2-for-3 with two RBI. Westgerdes added two doubles with Adam Rammel collecting two hits.
Kline went 2-for-3 for Patrick Henry. Spence collected two RBI in the game.