Monday, July 28th, 2008
Big crowds at Lake Festival
By Betty Lawrence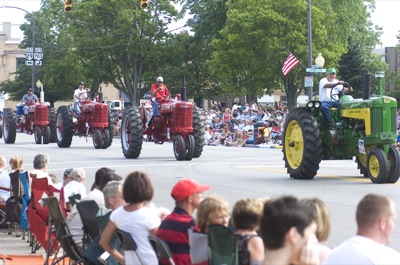 Lower temperatures and sunny skies prevailed throughout the three-day Celina Lake Festival, which helped bring out large crowds for the numerous activities, festival co-chairwoman Michelle Emerine reported this morning.
The crowd seemed to be a little smaller than usual for sidewalk sales and arts/crafts booths, she said, adding the vendors were still happy as, those who shopped did more than just browse.
"All in all, everything went very smooth. Everyone that I talked to seemed to be pleased with the turnout, especially this year's fireworks display, which was awesome and I think the best show we've ever had," Emerine said.
She noted the new company, Premier Pyrotechnics, incorporated music during the Friday evening show to correspond with area school theme songs and colors.
"They played a CD of all the schools' theme songs and tried to use the schools' colors in their fireworks as each song was played. That's never been done before and the crowd seemed to really like that," she said.
Saturday's grand parade was popular, drawing a large crowd to watch the 160 units that participated.
Rose Construction received first place for its Best of Theme entry, selected by the Mercer County commissioners. Coming in second was Grand Lake Tent's entry, and third, Cub Scout Pack 69.
"The Amphicars also were popular and the city of Celina was given a lifetime membership into their club, as well as the Celina Eagles for their support," Emerine said.
Thirty-six teams entered the always popular cardboard duct tape boat race, she said. The winners were Jason and Ryan Snyder of Celina.
The winner of the 2008 Harley-Davidson motorcycle was Tony Bise of Marion, who was not present to accept his prize.
His name was pulled by Mayor Sharon LaRue prior to the parade.
"We called him Saturday night and he's thrilled and plans to pick up the bike later this week," said festival committeeman Tom Hendricks.
Hendricks, in charge of the festival's car show and cruise-in, added attendance was up in each event.
"We had around 200 entries in the car show and 230 in the cruise-in," he said.
The volunteer festival committee will be taking the month of August off and start back up again in September for the 2009 version.
"It's amazing how far people come from to attend the festival," Emerine said, noting she had spoken with a family from California who took their vacation to drive to Ohio for the Celina Lake Festival and another family from the state of New York who decided to drive out for the festival.
"It gives you a good feeling. The festival really does draw people from all over and they leave with a positive image of Celina," she said.