Monday, July 28th, 2008
Coldwater settles as state runner-up
By Gary R. Rasberry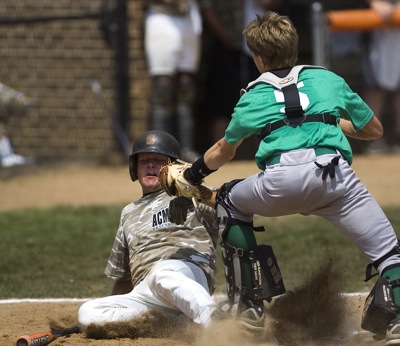 COLDWATER - The Coldwater ACME team accomplished one of its goals by making it to the championship game of the 2008 Lou Brunswick State ACME Tournament on their home turf of Veterans Field.
Then they got closer to their final goal by beating Northmont 8-5 in the first game to force a second game in the championship round of the double elimination tournament.
Unfortunately, Kevin Tolle shut down the Cavaliers short of their last goal.
Tolle scattered two hits in winning a pitcher's duel against Bill Geeslin to give Northmont the state title with a 3-0 in the final game on Saturday.
The Raiders, the third-place team last year at Bryan, end the year at 23-7. Coldwater collects its third runner-up trophy in four years in finishing the season at 24-5.
"It's special. We finished third last year and a lot of guys weren't sure if they would play with us again this year," said Northmont coach J.T. Thompson. "It was a struggle early on, but they came back."
"We had a great week. The kids stayed competitive for the games," said Coldwater coach Romie Schwieterman, who is stepping down as ACME coach after eight seasons. "What they did is just phenomenal this week. We just ran out of gas and out of luck, I guess."
Game One
Coldwater 8, Northmont 5
Wenning, coming of a 106-pitch performance on two days rest on Tuesday against Perrysburg, was solid for the first six innings he pitched, allowing just two unearned runs in the third that allowed the Raiders to tie the game.
The score would not stayed tied for long as Coldwater got a boost from a spectacular effort by Chad Westgerdes. Northmont starter Ian Creager started off the fourth by giving up a Jordan Woeste single, hitting Aaron Rammel for the second straight appearance and then allowed Alex Kramer to reach on a bunt single to load things up for Westgerdes.
Westgerdes lofted a deep shot to center that caught Zach Stirling off-guard. The speedy Westgerdes nearly caught up with Kramer as Kramer rounded third and came home standing up, in fact, being stopped only by the fence, for an inside-the-park grand slam that put Coldwater up 6-5.
"When we first got Chad, he was real slow," said Schwieterman with a grin. "We coached him and coached him. By the end of the summer he was pretty fast."
Leading 8-2 going into the bottom of the seventh, Northmont finally got to Wenning. Chase Belton and Mark Phillips reached on a one-out single and walk respectfully before Stirling popped to Wenning for the second out. Scott Rudmann singled in Belton to cut it to 8-3. Creager followed with a double to bring in two more runs. Schwieterman pulled Wenning for Alex Geier, who got the last out to force the second game.
"We just made a lot of errors the first game," said Thompson. "Ian didn't have his best stuff."
Game Two
Northmont 3, Coldwater 0
The offense that sparked Coldwater through the elimination bracket the past week ran out in the second game as Tolle kept Coldwater off-balanced.
The Cavaliers did not force Tolle to throw a lot of pitches, thanks in large part by hitting the first pitch. Coldwater had five first-pitch outs in the game as Tolle needed just 44 pitches to get through five innings. Tolle finished with just 78 pitches, 51 for strikes.
"Been telling Kevin all year he has the stuff to be really good," said Thompson. "He proved that today."
"It was like the ball had a ground-ball magnet to the shortstop and third baseman," said Schwieterman, referring to the seven groundouts to the left side of the field. "We were hitting it on the ground, which is what we tell them to do."
Geeslin started off the game by retiring seven straight before hitting Belton with a pitch. Stirling followed with a double to put runners on second and third, allowing Scott Rudmann to bring in Belton with a groundout.
Insurance came in the fifth. With one away, Corey Jordan reached on a bunt single. Belton, after a talk with Thompson, added a bunt of his own. Geeslin tried to field the ball but could not, allowing Belton to reach on an error. Jordan later scored on a wild pitch to make it 2-0.
"We saw (Geeslin) hurt his ankle in the third or fourth inning. That's why we started bunting a little," said Thompson. "That might have got him a little rattled."
Coldwater's best chance to score came in the sixth. With two outs, Tony Harlamert and Geeslin drew back-to-back walks, the only walks issued by Tolle. Wenning worked the count to 1-2 before popping to short to end the threat.
After Northmont scored another run in the seventh, Tolle got Adam Rammel to pop to third before striking out Briar Miller and Woeste back-to-back to end the game.
"You just can't stockpile any runs," said Schwieterman. "You'd like to bring back three runs from one game that you didn't need and two from another, but, unfortunately, they don't go for that."
Creager, who batted .437 in the tournament with two home runs, was named the Most Valuable Player of the tournament, joining teammates Jordan, Rudmann and Tolle on the All-Tournament Team.
Coldwater was represented by Wenning, Adam Rammel and Westgerdes. Rounding out the team were Austin Bowers and Luke George of Patrick Henry and Kevin Korkate and Cameron Garver of Bath.