Thursday, August 14th, 2008
Crawling cuties
Celina baby takes derby crown at Mercer County Fair
By Shelley Grieshop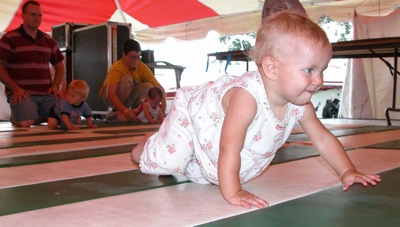 The smell of baby powder briefly overpowers the whiff of elephant ears and funnel cakes as nearly a dozen babies compete for Diaper Derby champion at the Mercer County Fair on Wednesday.
In the final heat of the day, 11-month-old Elijah Spring of Celina uses all the strength he can muster - perhaps it's the strained spinach from lunch? - to crawl across the finish line ahead of his competitors and fall into his father's arms.
"It was the remote control," his mother, Kate, says following the race. "It's his favorite thing."
Sure enough, daddy was waving the TV remote control as little Elijah drooled his way to victory.
"If the announcer (emcee Ralph Gels) had put the microphone on the floor, he would have crawled even faster," the proud mother says.
The event, which has been a big draw at the fair for two decades, showcases tots who haven't yet mastered the upright form of travel.
"Well, we've had some get up and walk," laughs event organizer Ginny Axe, who represents the sponsor, Mercer County Right to Life. "It only becomes a problem when they win."
Over the years, parents have gotten very crafty with the items they bring along to encourage their youngsters. Cell phones, balloons, car keys, baby bottles and sodas work well, race volunteers say. Some place other siblings, grandparents or a favorite caregiver at the finish line to coax the ankle-biters along.
"He loves me!" says Carol Snyder, babysitter and successful incentive for 13-month-old Braylin Conner, who left his fellow competitors in the dust during his first heat. "He follows me all over the house."
Faith Pohlman, 8-month-old daughter of Greg and Kim Pohlman of Coldwater, wins her heat, too, after daddy uses his shoe and later a spread of popcorn to bribe her.
"She crawled at 5 months," her mommy says before the race, as the brown-eyed beauty sucks on her finger. "She loves to chase the dog, I should have brought it along."
Emily Welling, who celebrates her first birthday today, is daddy's girl so he was the natural choice to encourage the blue-eyed blonde.
"Yeah, she practices every day," her mother, Candy, says in jest. "She's all over the place at home, getting into trouble constantly."
Axe says there's usually a few contestants who never get out of the starting gate. Then there's the tikes who get halfway down the mat and change their mind when startled by anxious family members and flashing cameras.
For Elijah, the day is sweet. Perhaps it's in the family's genes - his aunt, now 24, was Diaper Derby champ back in '85. Or maybe it's the big, shiny medallion he won - just like the Olympians get - that drew him to the winner's circle.
If he could talk, he'd probably thank the derby people for such a wonderful teething toy. Must feel pretty good on those gums.