Saturday, August 2nd, 2008
Mariners make it three wins in a row to end season
By Gary R. Rasberry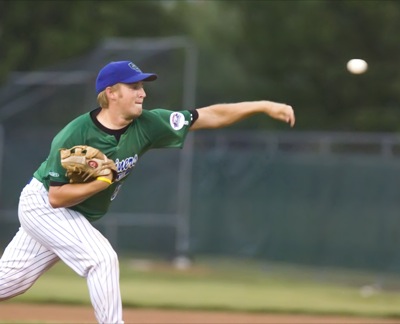 After a rough up-and-down season, Grand Lake concluded its GLSCL schedule with a first for the season.
Grand Lake gave up a 3-2 lead to Lake Erie in the top of the night, but came back to beat the Monarchs 4-3 in the bottom of the ninth at Jim Hoess Field on Friday night.
The win allows the Mariners to finish the season with a season-high three-game win streak and conclude the season at 14-26, avoiding the franchise record for fewest wins at 13, set during the 2002 season. The Monarchs, part of a five-way battle for the final three playoff spots, falls to 19-19 and heads back to Bowling Green to face Stark County in a doubleheader today.
Mariners manager Zach Schmidt was happy his team could finish a tough season with a big positive.
"Hopefully, the guys will be able to take something away from this summer, whether you learn one little thing or just the whole experience," said Schmidt. "Hopefully each guy will be able to take something away, be it a positive or a negative, and turn into something good for them in the upcoming season.
"We ended with three in a row, our longest streak of the season. We were able to end on a positive note,"
The Mariners and Monarchs traded a run each over the first two innings with Lake Erie holding a 2-1 lead through the top of the sixth.
Grand Lake went to work in the bottom of the inning. Adam Gecewich led off by getting his by Monarch starter Joe Jablonski. Brooks Hunton followed with a single and Mike Stalowy walked to load the bases for Brian Suerdick. Suerdick roped a single between short and third to score Gecewich to tie the game. After Trevor Willis struck out, Kory Benbow lofted a deep fly to center, allowing Hunton to come up to give the Mariners its first lead of the game.
David Paddock, looking to end the season with an even record of 4-4, didn't give the Monarchs much after the third, scattering four hits over his last five innings, including striking out two of the three batters he faced in the eighth after a half-hour lightning delay. Paddock struck out eight and did not walk a batter in eight innings of work.
"He's been throwing the ball well for us," said Schmidt. "He's a pitcher that throws strikes. He knows how to change speeds and locate his fastball. He pitches to both sides of the plate and that's what makes him effective."
Jake Wielebnicki came in to try and get the save and promptly hit Zach Strauss to start the ninth. Wielebnicki looked to be out of trouble when he struck out Justin Greiner and got Richard Gonzalez to fly to right. Aaron Crooks made the opening hit by pitch costly, doubling in Strauss to tie the game. Wielebnicki then intentionally walked Derek Spencer, followed by an unintentional walk to Brian Kordal to load the bases. Schmidt immediately called for Adam Goodpasture, who struck out Brett Savage on three pitches to end the threat.
Brian Robinson started the bottom of the ninth by getting a single to left off Monarch reliever Sergio Marquez. Justin Brauer promptly bunted Robinson to second to bring up Ryan Schlater. Schlater took a ball before blooping a hit just over third base and just in fair territory. With the left fielder playing deep, Schmidt waved Robinson home. Robinson slid in safely before the throw made it home to give the Mariners a win.
"Definitely sending him," said Schmidt. "As far back as the outfielder was, I knew he wasn't going to get him."
Nine different Mariners had the nine hits - all singles - on the game.
While the season did not go as hoped, and the roster by the end of the season depleted with injuries and departures, Schmidt gave a hearty thanks to the players that stayed around to finish the season strong.
"We had an up-and-down year, and that's what I addressed out there (in the postgame meeting)," said Schmidt. "We don't have a full roster here now, and I wanted to thank them for sticking it out. It's a testament to them and their character if they were able to stick it out over the course of a 40-game season."
NOTES: With three strikeouts on Friday, Trevor Willis finished the season with 39 strikeouts, breaking the team record of 37 held by current Coldwater high school baseball coach Brian Harlamert, who set the mark in the 1991 season. ... Hunton, a three-year Grand Lake player, finished his career 1-for-3 with a run scored before getting replaced at first base by Nic Jensen in the eighth. ... Other juniors who will not be able to return next season that were honored were Tom Fogerty, Mike Stalowy (a two-year Mariner, Brian Suerdick, Paddock, Goodpasture and Ryan Frazee.