Thursday, August 21st, 2008
30,000 expected to see national boat race
By William Kincaid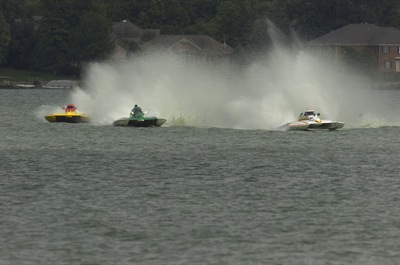 All local hotels, including one in Wapakoneta, are booked; 100 boat racers are registered; and more than 30,000 spectators are expected.
Now, it's up to the weather to make this weekend's Governor's Cup Regatta on Grand Lake the most well-attended race ever in Celina.
For the first time, Celina is hosting the Summer Nationals. This means a new boat class - the 16-foot Jersey Speed Skiffs - is added to the seven classes that have maneuvered around the 1-mile course in past years.
"This is the biggest turnout (of boats) we've ever had," regatta Co-Chairman Tom Saddler of Celina said Wednesday.
One hundred boats have pre-registered and around 10 to 15 others will probably show up on race day, Saddler said.
Committee officials offer a pre-registration cash incentive of $100 for each driver who shows up so they know how many boats to expect, making planning easier. In past years no drivers were pre-registered, and race officials didn't know the amount of confirmed boats until the day of the event.
"That's been a change this year - that's required a lot of work (of processing pre-registrations). It's worked out really well," Saddler said.
In addition to the eight race classes, exhibition action from Junior Hydros, Vintage and Unlimited boats will take place during the weekend.
Last year 65 boats competed on Grand Lake, which Saddler said was a high amount compared to previous years.
And where will all those boats park this year?
"We'll have enough room - we've been working on it all year," Saddler said, pointing out that computer parking plans were generated.
The boats will be situated at Lake Shore Park - where the Freedom Days Festival was held - as well as near the Hot Water Hole and gazebo.
A few boats started arriving Wednesday night, with many more to come today and the remaining on Friday morning, when test runs are scheduled.
As Celina is the national host this year, much effort went in additional marketing, Saddler said.
And it's been paying off.
On Tuesday, the regatta Web site, www.celinaevents.com, took 1,700 hits, the most ever in one day.
"I'm getting calls continuously right now from people coming for the first time," Saddler said.
Most people can't believe the event is free to watch, he said.
"Usually once someone comes to the event, they always come back. Once you get them here, it's not hard to get them back," Saddler said.
Last year's attendance was 30,000 people, and he expects the crowd to be bigger this year.
Testing will take place on Friday on the lake with racing to get underway at 10 a.m. Saturday and Sunday. Action is set to conclude around 4:30 p.m. Sunday with the presentation of boat class awards and the Governor's Cup trophy to take place around 5 p.m.

Schedule of events:
Friday
10 a.m.-noon and 1-4 p.m. - testing on the lake
Saturday
9 a.m.-noon - pancake breakfast, along lakefront
9 a.m. - drivers' meeting
10 a.m.-noon - racing
Noon - opening ceremonies
Noon-11 p.m. - concessions and beer tent open
12:30-4:30 p.m. - racing
5-8 p.m. - MC Blues, entertainment area
8-11 p.m. - Country Mile, entertainment area
Sunday
9 a.m.-noon - pancake breakfast, along lakefront
10 a.m.-noon - racing
Noon - opening ceremonies
Noon-5 p.m. - concessions and beer tent open
12:30-4:30 p.m. - racing
5 p.m. (or 30 minutes after last heat) - awards