Friday, August 22nd, 2008
Purdy enjoying his time covering the Beijing Olympics
By Gary R. Rasberry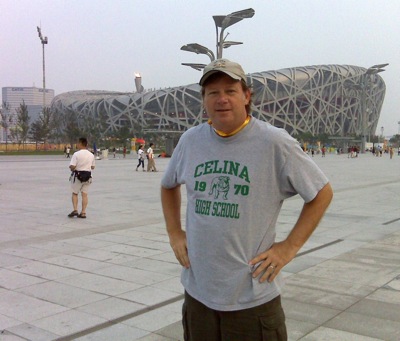 Compiled by Gary R. Rasberry

Twelve hours and half the world away in China, Mark Purdy is the Grand Lake area's man in China.
The Celina High School graduate is finishing up his work in covering the 2008 Beijing Summer Olympics as a columnist for the San Jose Mercury News. Purdy has sent back stories from events ranging from track and field and basketball to badminton and synchronized swimming.
Daily Standard sports writer Gary Rasberry sent several questions via e-mail for Purdy to answer and give local readers some idea what watching events from the games is all about and getting a closer look at China in general.
While waiting for the gold medal game of women's softball, Purdy responded with some very straight-forward answers. Questions are in bold:

This is the 10th Olympic Games that you have covered in your career as a sports journalist. Does it feel like "Just another assignment"?
Never. The Olympics is the hardest and most satisfying thing I do. I don't know how to describe it to someone who has never attended an Olympics or covered an Olympics as a journalist. Try to imagine what it would be like to play the Super Bowl, the World Series, the NBA Finals, the NCAA basketball tournament, the Kentucky Derby, and the Celina-St. Marys football game all on the same day in the same city - and then have the same thing happen for 17 straight days. That comes pretty close to what it's like. Trying to keep track of things is the biggest battle - who is playing, when and where.. You always feel as if you are in the wrong place. I do my homework as best I can and then be ready to adjust. It's still exhausting. You walk out of the track and field stadium at 1:30 a.m. after finishing up a column and are totally beat, but you realize you have to be up at 6 a.m. to get to beach volleyball or swimming or somewhere else and you get really bummed - but then you look up and the whole stadium plaza is all but deserted so you can actually hear the sound of the Olympic torch burning. Look, you either love that feeling and that challenge, or you don't. I do.

One of the big questions coming into the Beijing Games is the pollution. Just how bad is it over there?
It's not good. After a couple of rainstorms, there have been some days where we actually saw the mountains that ring the city. That lasted about 24 hours. Otherwise, the air has been pretty mucky. And hot and humid. It reminds me of when I worked in Cincinnati and sometimes during the summer the temperature would get into the 90s and a front would settle in and no air would move in that river valley for several days. The air would get dirtier and dirtier and when you'd sweat, it almost felt as if the pollution was sticking to your skin. Good times! That's what it is like here. If you see that picture I sent you where I'm wearing the Celina tee shirt, that's why I look so wrung out and ugly. Well, not the only reason, I am naturally worn out and ugly. But the pollution and heat exacerbate it.

In one of your columns, you talked about going to China two weeks before the Games as sort of a vacation with your wife. Walking around mainly as a tourist rather than a journalist, how did you find China?
Well, I won't bore you because I could probably spend two hours talking about all that. Barb and I visited five cities before arriving in Beijing, which in my opinion, is the least beautiful of the six. There are some gorgeous places in China and some very historic stuff to see. We loved doing that. But in terms of what the country is like . . . I think I mentioned in the column how one day, my wife and I were riding bicycles outside this Chinese mountain resort town of Yangshuo - think Gatlinburg, Tennessee, except with all Chinese tourists (we were the only Americans in town). As we rode our bikes to the next little town, we passed a farmer with an ox cart on his way to the rice paddies, then were passed by some guy on a motorcycle with a bunch of dead chickens hanging off the back, then were passed by a guy in a Mercedes talking on a cell phone. That's China today. I am very curious to see where it's going to go in the next 10 or 15 years.

How many events do you usually get to in a given day for assignments?
Usually no more than two. Sometimes three. I think the biggest thing people watching at home don't realize is how far apart some of the venues are. On television, the broadcast jumps from event to event and everything looks like it's just across the street from each other. I'm at the softball venue right now and it's about 20 miles from the main stadium. The basketball arena is about 10 miles from the stadium. Trying to get from one place to another in the traffic of a city with 17 million residents is not easy. You really have to plan well.

From a journalist's view, what have been some of the big moments at the games that maybe have not been getting the notice because of other things like Michael Phelps?
Well, when the Chinese hurdler Liu Xiang had to drop out of his event because of an injury, that was the biggest story here for two days. Phelps gets attention here but because the Chinese aren't great in swimming, they don't care about it as much. What I notice the most people watching on television when I pass by restaurants, shops, etc. is the Chinese men's basketball team. It's incredibly popular.

Are you looking forward to Vancouver for the 2010 Winter Games?
With all due respect, I think I need to rest up from these Games first before I start thinking about that. I figure I'll go to bed for a couple of days when I get home and sleep straight through. And when I wake up, it will be football season. That's kind of the way it goes for me. At this stage of my career, I'm kind of like an old hunting dog. I just go where they point me. The good news is, no matter what happens, I won't have to cover synchronized swimming for another four years.