Wednesday, August 27th, 2008
200 pounds lighter in less than a year
By Margie Wuebker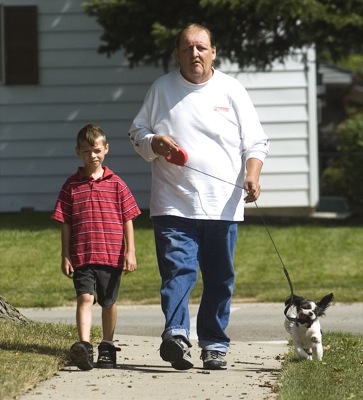 Terry Huston remembers days when his only exercise involved getting out of bed and heading to the bathroom or the kitchen table. At 474 pounds, the effort left him totally exhausted and in need of oxygen assistance.
Today, the 46-year-old Celina resident is nearly half the man he used to be thanks to a diet he follows religiously and a support network of family and health care professionals.
The wake up call came last November when he was admitted to the hospital with symptoms of impending heart failure.
"Jesus woke me up then and there," Huston says. "I knew the time had come to do something or die, and I was not ready to go."
On Thanksgiving Day last year, he ate a hearty meal of turkey with all the holiday trimmings before buckling down to the task at hand - learning how to eat properly and exercise regularly in order to pave the way for a 200-plus pound weight loss.
He sought assistance from the cardiac pulmonary/wellness center at Joint Township District Memorial Hospital in St. Marys, where director Carol Modica and her team instructed him on portion control, wise food choices and label reading. The regimen included no medication or surgical intervention.
"Terry gobbled up the information and ran with it," Modica says. "He got the fever as soon as he began to see progress. I will never forget the look on his face the day he stepped on the scale in our department. We always had to take him to another part of the hospital to be weighed because ours only went to 375 pounds."
Lunch used to be thick bologna sandwiches and a large bag of potato chips washed down with lots of soda pop. The dietitian introduced him to wiser choices like lean meats, fish and healthy salads as well as fresh fruits and vegetables.
"Oh my, I tried dieting so many times, but I always got discouraged and ended up putting on more pounds," Huston says. "This time I really got into it and never looked back."
Things he once craved - potatoes, bread, pasta, lunch meat and salty snacks - went onto his "no more" list and amazingly the desire for them waned.
"I used to order a large pizza late at night and eat the whole thing all by myself," he recalls with a smile. "Now I eat a small amount of toppings and lick the crust before leaving it on the plate. I used to love buffets and I certainly got more than my money's worth. Now I don't go near those places."
Huston no longer eats prepared foods because of the high sodium content and he switched from soft drinks to ice water with lemon. He has developed a penchant for yogurt and occasionally splurges with Weight Watchers muffins.
"I enjoy food more nowadays," he says. "Things I never considered before taste so good like a grilled hamburger without a bun or rotisserie chicken instead of the deep-fried stuff. Yes, there are days when I think about a big bologna sandwich and some potato chips, but it goes no further than that. I don't want to go back to my old ways even if it means my wife Debbie has to cook regular for her and special for me."
While Modica says Huston "hit the ground running" in terms of dieting, exercise proved to be a different matter.
"Terry was unable to stand for long periods of time so we had to go very slowly," she says. "Part of the instruction involved breathing techniques to help in the process."
He gradually abandoned the walker and the oxygen tank with its trail of plastic tubing and started going outside away from air conditioning and fans. Huston, who has been disabled due to back problems since 1992, no longer falls as he once did or experiences knee pain.
The man, who once had difficulty moving from one room to the next, now walks all over town and regularly rides his bicycle along the bike path between Celina and Coldwater. He and his beloved dog Corduroy head out each morning at 5 collecting aluminum cans as they go. And he still has plenty of energy to walk his grandson Colin to the bus stop.
"There was a time when I didn't do much but lay around," he says. "Now I want to be up and going because I feel so good."
Huston shows off his newest outfit - a pair of jeans with a 44-inch waist and a Harley Davidson muscle shirt proclaiming "Fat Men Rule." Gone forever are stretch pants with a 58-inch waist and shapeless T-shirts. At 270 pounds, he has discovered the thrill of shopping.
"My goal is reaching 200 pounds," he says. "I have come so far but I still have a way to go. I just want people to know amazing things can happen when you put your mind down to it."