Saturday, August 30th, 2008
Kokomo no match for the Cavaliers
By Gary R. Rasberry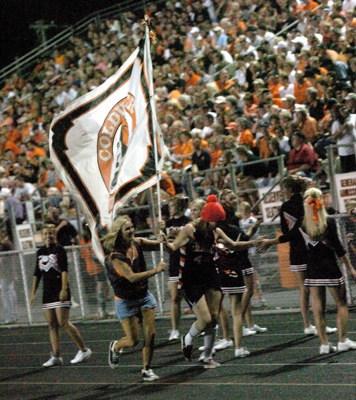 COLDWATER - Talk about the other side of the spectrum for the Coldwater defense.
After facing Kenton's wide-open passing game last week in the season opener, the Cavaliers were facing a team that kept the ball between the tackles as much as possible in the Kokomo Wildkats.
But it didn't take long for the Cavaliers to adjust, holding Kokomo to less than half of the 370 yards the Wildkats rushed for last week as the Cavaliers won 41-7 in the home opener at Cavalier Stadium.
The Wildkats, who rushed 72 times last week to set a school record for yards rushing in the game, were held to 168 yards on 51 carries, for just under 3.3 yards per carry.
Cavalier coach John Reed gave the credit to the defensive brain trust, and especially to the line coaches: Randy Wright and Chip Otten.
"We were well prepared," said Reed. "We knew what we had to do. We didn't know if we could do it or not, we really didn't. I think this is a much better Kokomo team than what people saw here tonight. I think the fact we got up on them early, it takes them out of what they like to do.
"Our front people, defensive front people, coach Wright and coach Otten, and the coordinators in coach (Tim) Hoyng and coach (Jason) Hemmelgarn really did an outstanding job with those front guys. Then coach (Jerry Kanney) had his outside linebackers. Last week they were playing in space. Today they were playing over a tight end."
"Offensively we just had way too many mistakes," said Kokomo coach Brett Colby. "We'd get going, we'd get to second-and-three and then get a five-yard penalty. I think it was a case of trying to get off the ball quicker than they were because their kids get off the ball so fast."
With the defense doing their job, the Cavaliers offense had plenty of time to warm up. After Mario de la Rosa booted a 27-yard field goal on the first drive and Kokomo stalled out on its opening drive when a punt attempt was botched on a bad snap, Cory Klenke hooked up with Zach Siefring for a 33-yard touchdown pass with 2:38 left in the opening quarter to make it 10-0.
Coldwater then rounded out the first half with a blistering 21 points in just over five minute of play, as Klenke found Tony Harlamert for a 16-yard scoring pass, then on a play-action, found tight end Brock Pleiman for a 19-yard score. Klenke took a break, but Keith Wenning ended the first half by hooking up with Zach Kaup for a six-yard score with 18 seconds left to send Coldwater to the halftime break up 31-0.
"We made a couple of big plays," said Reed. "The big pass to Zach (Kaup) on a third-down play on the first series really was an enormous play. We had a holding call against us (on the first play), came back and allowed us not to punt the gave and give them great field position."
With Kokomo in the 3-4 set, Coldwater's line gave the offense plenty of time to roll. The Cavaliers racked up 302 yards of offense, with 178 coming through the air as Klenke and Wenning were not scurried at all through the game.
Kokomo broke the shutout against Coldwater's junior varsity late in the fourth quarter as Bruce Johnson scored from 52 yards out, the longest play from scrimmage in the game for the Wildkats.
"It's a shame, but they're a very talented football team," said Colby. "We had really a good gameplan put together and we just had some mistakes and you can not do that against good teams."
Klenke finished 11-for-14 for 166 yards and three scores. Harlamert had five catches for 41 yards while Kaup and Siefring combined for seven catches and 118 yards.
The Cavaliers (2-0) open Midwest Athletic Conference play Friday, traveling to Hole Field to face 1-1 Versailles.