Wednesday, September 10th, 2008
A walk through St. Marys' history
By Janie Southard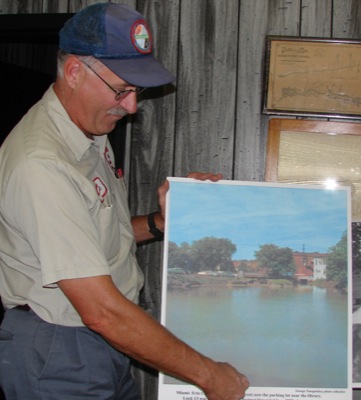 ST. MARYS - Lock 12 is now a parking lot, but back in the day its presence defined what the little town would become, according to a local Miami & Erie Canal expert.
"Lock 12 was the most important land parcel in St. Marys. It was definitive of how the city would develop but not many people realize that," said Steve Dorsten, canal operations manager for the Ohio Department of Natural Resources, Division of Water.
As he arranges large photo reproductions of the canal in his office, Dorsten gives a taste of what his Lock 12 presentation will cover at the Historical Walking Tour beginning at 1 p.m. Sunday from Memorial Park.
"What Lock 12 insured for the town was the commerce of people and goods and also a power supply for the area ... As the canal proceeds north through town, a (water) raceway branches off at Lock 12 and runs to the old power plant," Dorsten said.
The old lock is still visible as is the raceway. The adjacent basin where the boats could turn around is now the Chestnut Street public parking lot.
With his daily work centered mostly on the 1845-era canal, this ODNR guy has heard a whole lot of canal stories, a fact that never ceases to please him. Take this one involving the canal lay-by just off County Road 66A north of St. Marys.
He often provides information at various public functions including the county fair and typically it's there where the regular canal buffs wander over for a chat, like one of the Yahl boys from St. Marys.
"I guess I've been talking to this guy for 20 years or more. Not too long ago he told me a story about the pond (lay-by) out by his family home that I'd never heard," said the canal manager at his office in the state park building Tuesday afternoon.
Yahl's canal recollection came from his family's oral history. Making a long story short, canal boats traveling south used to pull off the main canal into the lay-by and dispense a runner to town to check on the lineup of boats to go through the lock.
"That's quite a little run, but if there was a long lineup, the boats in the lay-by would just stay there for the night. People would get out and picnic. Then bright and early the next day the boat would head for town," Dorsten said.
"And, I don't know how many people have told me the canal is where they learned to swim," he added.
Along the line Dorsten has accumulated several mounted photo enlargements of Lock 12 in its heyday including some shots from 1912 when the original wood of the lock was replaced with concrete.
"That's another indication of how important this lock was. People wanted to preserve it," he said shifting through his scrapbook for an old newspaper clipping of more canal stories.
This one involved a rather inebriated resident backing his 1964 Oldsmobile into the canal. But, that's one of the stories Dorsten will tell Sunday during the tour.

If you go:
What: Historical Walking Tour, downtown St. Marys
When: Sunday, registration begins at 12:15 p.m.
Where: Starts at Memorial Park
Details: Those attending will be divided into groups. There are seven stops on the tour. Non-walkers may stay at the park Gazebo to enjoy gospel music. Bring lawn chairs.