Wednesday, September 10th, 2008
Celina breaks out of offensive slump
By Gary R. Rasberry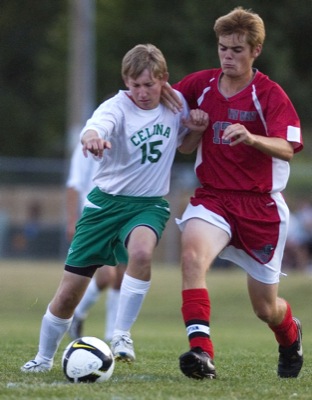 The Celina boys soccer team came back with an offensive flurry after two games where goals were at a minimal, shutting out Van Wert 5-0 in Western Buckeye League action on Tuesday at the Celina Soccer Stadium. The Bulldogs stay perfect in the WBL at 3-0 while evening their overall mark to 3-3.
"We showed up," said Celina coach Bruce Strine. "We've been underperforming this year. As a team we talked it about it this week, very seriously, that was it time for us to step up. And they did."
After dominating play against St. Marys on Thursday but only getting one goal, then losing 4-1 on Saturday to Greenville, the Bulldogs looked to make a statement against the Cougars (0-4-2, 0-2-1 WBL).
Celina went to work with a two-goal burst in a three-minute span near the midway mark of the first half. Jacob Fledderjohann started the action in taking a pass from Chris Wilkins and then putting the ball past Jacob Hood to start the scoring at the 23:06 mark.
Three minutes later, Michael Sommer drove his way toward the goal and put it past Hood at the 20:05 mark to make it 2-0. Nine minutes later, Aaron Schmitt drove in with an unassisted goal with 10:58 left to give Celina a 3-0 lead at the half.
The Bulldogs capped off the evening with two goals in less than two minutes in the second half. Sommer scored his second goal off a pass from Kaleb Menchhofer at the 28:10 mark to make it 4-0. Schmitt closed out the scoring with another unassisted goal with 26:22 to go.
The Bulldogs took 19 shots on the evening, something that Strine wanted to see.
"I'm just proud of the guys how they stepped up," said Strine. "This is the team we knew we had at the beginning of the season, but we just did not perform. I hope we carry this. This is a season-changing game for us. We're 3-0 in the WBL. We're pleased where we're at."
The defense came up with another solid gem in posting another league shutout. The Bulldogs allowed just two shots on goal in the contest.
"We haven't been scored on in the WBL. That's a good thing," said Strine.
Celina travels to New Knoxville for a non-league game on Thursday starting at 5 p.m.