Monday, September 15th, 2008
Strong winds rip through Grand Lake area
By Janie Southard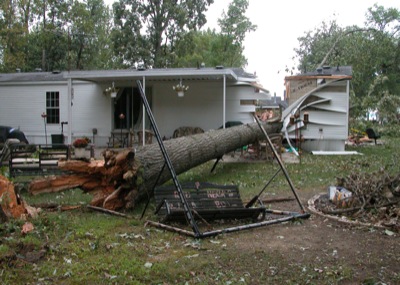 The remnants of Hurricane Ike roared through the area Sunday afternoon causing damage to some property and downing power lines, but winds locally were not as high as the 80 mph reported in other parts of the state.
Mike Ryan of the National Weather Service in Wilmington told the newspaper this morning that Sunday's weather was "very unusual."
He said the remnant-hurricane moved quickly along at 50 mph with just over 24 hours elapsing between landfall in Texas and Ike causing havoc in Ohio.
"I've lived in Ohio more than 25 years and I've never seen anything like it," he said, adding it was the merging of two strong weather events that brought the high sustained wind and the high speed gusts.
"What we got was the dry side of Ike and a cold front merging. The rain side of Ike swept up Indiana and into Michigan ... Some wind gusts in Ohio measured 80 mph. A category one hurricane contains wind 74 to 94 mph," he said.
Local wind velocity measurements ranged from 49 mph at the Neil Armstrong Airport in New Knoxville to 66 mph reported to the National Weather Service by a St. Marys weather spotter. Daily Standard weather guru Dennis Howick reported 54 mph in rural Celina.
"A lot depends on where the equipment is set up," Doug Marker at the New Knoxville airport said this morning.
In Montezuma, the winds toppled a tree onto a mobile home at 5397 Lakeside Drive shortly after 4 p.m. Sunday. The tree split the mobile home, and thankfully, the occupants inside were not injured.
Owners Ed and Rita Miller were playing Playstation golf in the living room with friends Ed Heuker and Renee Hammond when they heard the sound of breaking glass at the rear of the trailer at Lee's Landing. They immediately looked outside and saw the 31/2-foot-diameter tree laying across the patio.
"It smashed through the trailer and came right down into the rear bedroom," Heuker said this morning.
Montezuma Fire Department responded to the scene after it was determined a portion of the tree fell against a gas meter. Firefighters were sawing wood away from the meter when a large branch fell narrowly missing a fire truck.
Heuker said the four occupants attempted to salvage anything of value from the heavily damaged room, which doubles as the Millers' computer room and a bedroom when their son comes to visit.
One dresser escaped damage while other furniture in the room was reduced to splinters.
The Ohio State Highway Patrol in Wapakoneta reported two semis jack-knifed at U.S. 33 and I-75 Sunday afternoon. The spokesperson was not sure this morning if there were injuries in either of those incidents. The event is listed as related to high winds.
In Fort Recovery, Village Administrator Randy Diller said the village lost power Sunday afternoon but was back on line around 8:45 p.m.
"I understand some of our rural folks don't have power, but we're in pretty good shape with only minimal damage here in the village, thank goodness," Diller said.
In St. Henry, the village was out of power from 3 p.m. to about 6:30 p.m., according to Village Administrator Don Hess and maybe an additional hour for Midwest Electric customers.
"There are a few large trees down but none blocking any streets," Hess said. "Some laid across phone and power lines, but DPL and tree crews took care of that without any problems ... I don't know of any major structural damage. There are a lot of limbs down, which we'll have cleaned up in a few days."
Numerous calls were received by 911 dispatchers during the height of the storm, including a batting cage from Parkway Local Schools blowing in the area near state Route 118. Another call was about an electrical fire between two mobile homes at 5339 Karafit Road.
Matt Berry of Midwest Electric said at peak there were 3,100 customers without power.
"But that number is down to five and we expect to have everyone back on by noon," he said.
- Daily Standard reporter Margie Wuebker contributed to this story.