Monday, September 15th, 2008
The spirit of Moeller is still alive
By Gary R. Rasberry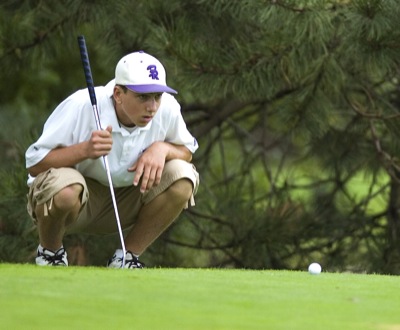 Jordan Moeller, it's been said, always had a smile on his face, no matter if he just birdied a hole or shot a quadruple bogey.
It's his spirit of play that prevailed during the inaugural Jordan Moeller Memorial Invitational golf tournament held Saturday at The Mercer County Elks, the course he played when he was a member of the Marion Local golf team.
Moeller was killed in a automobile accident with three of his 2007 classmates - Jordan Diller, Jordan Goettemoeller and Brad Roeckner - on March 15 of this year.
Kirk Stucke, the club pro at the Elks and a former Marion Local golfer, was one of the people who worked to get this event together.
"I really wanted to do a high school tournament to begin with," said Stucke, who played for the University of Findlay after graduating from Marion Local. "Everything happened (the accident) and just an idea came up. Jordan was such an integral part out here.
"I know they've had a lot of events to raise money for the four kids. This is kind of one to keep his spirit alive, more or less, not to raise money."
Stucke had close ties with Moeller, working with him on his game.
"When he was a junior or senior, I really worked with his golf team and helped him through the summer," said Stucke. "He just smiled all the time, laughing. It didn't matter how bad he played or how good he played. He was having fun."
"It's a great thing," said Marion Local golf coach Chris Obringer. "I had Jordan (on the team) for two years. Like Kirk said, he was always smiling constantly. He was my little errand boy. Everything I asked of him he did. He loved the game so much. You could tell when he shot good or shot bad. He was always a happy-go-lucky kid."
When the offer to play in the tournament was sent out, teams jumped at the chance. In addition to Marion, Mercer County schools Coldwater, St. Henry, Parkway and Fort Recovery all accepted, as did fellow Midwest Athletic Conference school New Bremen along with Kenton, Greenville, Lehman and Russia.
"It wasn't hard at all," said Stucke of getting teams. "We got it out a little late, so we missed schools like Minster and Celina and some of the schools who want to get in next year. Hopefully, we can get it up to 20 teams."
"We wouldn't have missed it," said Coldwater coach Jack Mescher. "As soon as we heard it, it was a great idea. Anybody that knew Jordan, knew he was a person who was always happy-go-lucky and didn't let things bother him, kept things light. I think our players that knew him learned something from him: you don't let things get you down. There's more important things in life."
Jordan's family supported the tournament and attended the awards presentation, even providing snacks to the players when they made the turn. A number of the coaches and players went over to shake hands after their play was complete.
The first tournament champion was Mac Fiely of Greenville, who shot a five-over 77 to take medalist honors.
Coldwater's Mark Kaiser was the top local finisher, sharing runner-up honors with Lehman's Will Fridley at 79. Parkway's Tyler Oliver was tied for fourth with Russia's Nathan Wilson to round out the all-tournament team.
Greenville edged Lehman 337-339 for the team title, something that Green Wave coach Brian Stickel was proud of.
"We just thought it would be a good idea to get into (the tournament)," said Stickel. "It feels real good winning the first one. It's real cool."
Russia was fourth with a 347. St. Henry was the first local team on the leaderboard in fourth with a 351. Marion Local was fifth with a 361 followed Parkway (363), Coldwater (365), Fort Recovery (367), New Bremen (375) and Kenton (404).
"As the years go on, it's going to get a lot bigger," said Obringer, who like the rest of the Flyer golf team sports the initials "JM" on the sleeve of their golf shirts. "(Jordan's) always around here. You can see it.
"I drive down the road here and I think I still see him. He's always in our thoughts. That's one thing that will never leave our thoughts."