Thursday, September 18th, 2008
St. Marys man sent to jail for beating dog with ball bat
By Janie Southard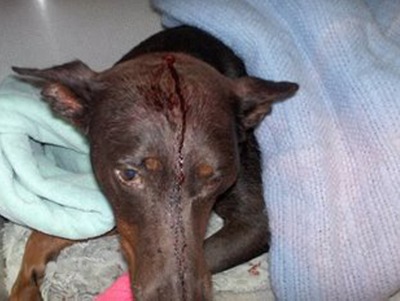 A St. Marys man pleaded guilty Tuesday in Auglaize County Municipal Court to a charge of cruelty to animals for a beating that the local humane society says is the worst it has seen in its 35 years of existence.
Adam J. Heckman, 24, 200 N. Knoxville Ave, Lot 33, St. Marys, is now serving 180 days in the county jail and will pay restitution for veterinary costs.
Acting on a Sept. 8 complaint of someone making threats to harm a dog, an Auglaize County Sheriff's deputy responded to Heckman's home, where they found him in an intoxicated state.
According to the sheriff's office, Heckman told officers, "I think I killed him."
The officers later discovered an injured dog in the bathtub of the residence. Heckman claimed he used an aluminum baseball bat to beat the animal, a 10-year-old mixed breed dog that was adopted nine years ago from the Auglaize County Humane Society.
Heckman was taken into custody and later arrested for cruelty to animals.
According to information from the humane society, Heckman is the estranged boyfriend of the dog's owner, who claimed Heckman beat the dog because it is "something she loves."
Named Jewels, the dog is in a fight for life at the society due to the massive head injuries inflicted by Heckman.
In a paid advertisement in Tuesday's Daily Standard, the society claims Jewels' owner took her two children and fled the Knoxville Avenue residence. The society urges women leaving a dangerous situation at home to take any animals with them.
Court records in both Mercer and Auglaize counties show Heckman has past cases in 2004 and 2008 where civil protection orders were filed against him by different women.

Recovery begins for abused dog who loves cheeseburgers:
Jewels, the dog beaten with a ball bat earlier this month, is improving, according to Sandy Harrison, president of the Auglaize County Humane Society.
"She'll be a long, long time recovering, but the good news is that she's showing improvement. She's walking a little better without the stagger she's had," Harrison said this morning. "And there seems to be a light in her eyes."
In order to get her to take medicine, the society staff hid the pills in food. They used a cheeseburger, which has become her favorite food and now that's all she'll eat.
People have been dropping off cheeseburgers at the animal shelter every day. When served with other food, Jewels picks through her dish to get to the burgers.
"A kind lady brought Jewels a new collar and leash and some treats this week, plus she brought pizza for all the workers. How nice!" Harrison wrote in the society's Web site blog.
She added the physical crisis appears to be over but hopes everyone will keep Jewels in their thoughts.
- Janie Southard