Monday, September 22nd, 2008
New equipment fast forwards Fort Recovery students further into techno age
By William Kincaid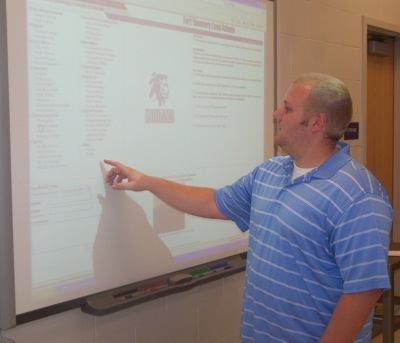 FORT RECOVERY - Students at the Fort Recovery Elementary/Middle School are into technology for learning like never before in the school's history, according to various officials.
The school's computer lab was completed at the beginning of the school year with the help of a $182,126 Science Technology Engineering and Mathematics (STEM) grant.
So far, $112,967 has been spent in the new lab now being used primarily by middle school students and teachers, but also available to elementary students.
"This was an art room that may have had four computers in it," said John Jutte, 22, newly hired technology coordinator.
Now, the room contains 27 top-of-the-line computers, a laser machine, a sign maker, a CNC machine and a SmartBoard, among other devices. The school also purchased laptops and two other SmartBoards for throughout the school.
"This is good technology to have," Jutte said about the SmartBoards.
The SmartBoard projects an enlarged image of a computer screen. Anyone can control a computer on the SmartBoard through its touch-screen or keyboard capabilities.
Students are no longer just listening to a teacher's instructions while stuck behind their computers. Now, they can watch the teacher walk them through.
"It's interactive learning," Jutte said.
A kindergarten class recently watched a presentation from Jutte and thought he was a magician.
"It really catches their attention. They were so amazed, they thought it was magic," he said.
Middle school Principal Ted Shuttleworth said if it was up to him, every room in the school would have a SmartBoard, which he believes is the future of education.
"They're big fans. Every teacher wants one in their rooms now," Jutte said.
In addition to the SmartBoard, students are learning about science, technology, engineering and math in a new science lab.
Shuttleworth said every seventh-grader will take a course in the science lab. And if eighth-graders can fit it into their schedules, they also can take a course in the lab.
All seventh-graders are introduced to CAD, Shuttleworth said. Traditionally, only when students become juniors and seniors and enroll in Tri Star are they taught the fundamentals of CAD.
"Just the strides we've taken to get where we are now is pretty impressive," Jutte said.
Other uses of the science lab include a course in Project Lead The Way, the school's new engineering initiative; laser engraving; poster making; and many other exercises of industrial arts, Jutte said.
Shuttleworth pointed out that students recently created a professional-looking sign placed in front of the high school for the Fort Recovery FFA Alumni's Gifts of Grain Campaign for $20. It would have cost the school at least $125 to purchase a finished sign from a business, he said.
Also, students will produce a case to frame the school's new $17,000 electronic greeting sign that has digital scrolling messages.
Superintendent David Riel said the school will easily save $15,000 through its students efforts.
"It's because we don't have to purchase the whole (sign)," Riel said after pointing out Fort Recovery is the only county school to have this type of sign.