Monday, September 22nd, 2008
Minster runs the table to MAC crown
By Gary R. Rasberry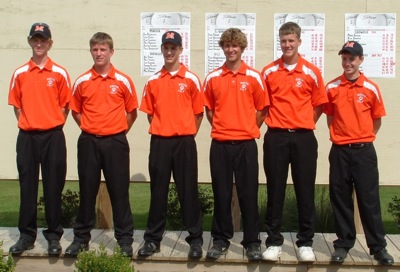 Solid shooting from Minster golfers Ben Hogenkamp and Adam Sherman allowed the Wildcats to run the table in the Midwest Athletic Conference, capturing the conference boys golf tournament on Saturday at The Fox's Den to go along with a 9-0 regular season record.
Minster collected the 18 tournament team points to go with its 18 from winning the regular season title to score 36 points.
The Wildcats shot a 318, well ahead of runner-up St. John's 330. Versailles finished third in the tournament but still gained enough points in going 8-1 in the duals season to take second overall..
"It's nice to have the depth again," said Minster coach Mike Griner. "Placing three on the first team All-MAC is quite an accomplishment for us because we have 4-5 players who can be medalist on any given round."
Hogenkamp tamed the Fox's Den course this season, shooting a 2-under 70 to take the tournament title after finishing second behind teammate Craig Purpus last year.
"I started off pretty good," said Hogenkamp. "I had five birdies total.
"(The course) was pretty easy. We came over Wednesday to play a practice round and the pro told us all the tees would be played back. We came here today and the tees weren't too bad. ... Greens were a little fast."
Helping Hogenkamp in pacing the Wildcats was Sherman, who placed fourth in the tournament with a 77. Purpus shot an 85 with Austin Fischer carding an 86 to round out the scoring for the Wildcats.
Versailles' Wes Drees placed second with a 1-over 73. Brad Wannemacher of St. John's was third with a 74 and Coldwater's Mark Kaiser tied Sherman with a 77 to round out the golfers shooting sub-80.
In the All-MAC and Golfer of the Year standings, based upon the finish during the duals season and in the tournament, Wannemacher held off Drees 1511/2 points to 1491/2 points to take top golfer honors after placing fourth in the points standings.
Joining Wannemacher and Drees on the All-MAC first team were Kaiser, Parkway's Tyler Oliver, St. Henry's Doug Bruns, Hogenkamp, Purpus and Sherman, St. John's Brandon Hemker and Drew Fisher, New Knoxville's Caleb Allen and New Bremen's Martin Holdren.
Sectional tournament golf gets underway this week for Division II and III teams. Coldwater goes to Country Acres on Thursday for the Division II sectional while the other teams except St. John's and Versailles go to Hawthorne Hills in Lima on Thursday. St. John's will play Thursday at Auglaize Golf Club outside Defiance while Versailles is at Beechwood in Arcanum today for Division III play.