Saturday, September 27th, 2008
Canoers paddle Grand Lake
Choppy water makes for some thrills and spills
By Nancy Allen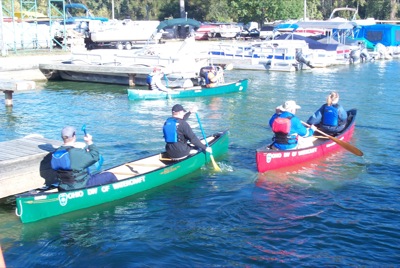 Though three boats had to be towed in and the kayak carrying the organizer of the event sunk in choppy water, the first organized canoe paddle on Grand Lake was a wet, yet successful event.
The Friday morning event was organized by Laura Walker, coordinator of the Grand Lake/Wabash Watershed Alliance, to show the public special features of the lake, such as its wildlife, and to highlight lake activities related to the watershed action plan.
"It went fairly well," a wet Walker said following the paddle. "You just can't predict the weather. But everybody made it back fairly dry."
An Ohio Division of Watercraft boat followed participants during the entire 3-mile trek, which started at Bayview Marina and ended at Behm's Landing. Walker scaled back the original 9-mile trip from the East Bank to the West Bank due to the choppy water.
All were wearing life vests.
The foot-high waves proved too much for some canoers, whose boats were towed in and the occupants brought aboard. Both Walker and Grand Lake St. Marys State Park Manager Craig Morton paddled kayaks.
The waves overtook and sunk Walker's small whitewater kayak, but she was quickly plucked out and brought aboard a pontoon piloted by Dave Meyer, a Lake Improvement Association member.
The last few canoes straggled in to Behm's with occupants looking tired, yet jubilant.
"We made it," one woman said, pumping her fist in the air.
"Most everyone was a capable paddler, and we had division of watercraft here to pull anyone out of the water if they needed to, so no one was put in harms way," Walker said. "For a lot of people, it was a good look at the lake, a chance to have some fun and learn while they were out there."
Out on the lake state officials pointed out local wildlife, including a juvenile bald eagle and an osprey, a raptor also known as a fish hawk.
The group also stopped at an erosion prone area off the west side of Windy Point that will be getting help soon. Four geotextile tubes filled with lake dredge material will be placed along the shoreline and eventually covered with riprap to protect the eroding shoreline.
At Behm's Landing, participants learned about nonpoint source pollution from Nikki Hawk, education specialist at the Mercer County Soil and Water Conservation District.
She used a model called an EnviroScape with miniature farm fields, houses, a factory, storm drains and a lake. She poured different materials onto the model like table salt, oil, food coloring and mud to represent different types of pollution like motor oil, road salt, soil, manure and yard fertilizer. She then sprayed water on the EnviroScape to simulate rain, which made the substances run off the land and into the miniature lake.
At East Bank State Park, participants listened to a presentation by Bonnie Wurst, an education specialist with the Mercer and Auglaize Counties solid waste districts. She talked about recycling programs in both counties and how to reduce litter.
The group ended the outing with a lunch of grilled brats, hamburgers and other goodies.