Saturday, September 27th, 2008
St. Marys is on top of WBL all by itself
By Ryan Hines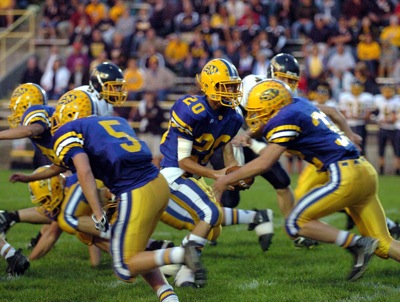 ST. MARYS - A defensive stand on a potential game-winning two-point conversion and a record-setting day by Roughriders quarterback Jake Taylor led St. Marys to a 21-20 win over Ottawa-Glandorf on Friday night at Skip Baughman Stadium.
The one-point win leaves St. Marys (6-0, 5-0 Western Buckeye League) as the lone unbeaten team in the WBL, thanks to Defiance beating Shawnee, 28-19. Ottawa-Glandorf's three-game winning streak was snapped by the Roughriders leaving the Titans at 3-3 overall on the season and 3-2 in WBL play.
Jake Taylor hit Aaron Homan on a 75-yard bomb with 4:16 to play in the fourth quarter to put the Roughriders on top 21-14. The Taylor TD pass was his ninth of the season, breaking the school-record for touchdown passes in a season with nine.
On the ensuing possession, O-G quarterback Taylor Kuhlman guided the Titans down the field on a six-play drive that was capped by a 10-yard touchdown pass to Brent Kuhlman that made the score 21-20 with 2:08 left in the game.
O-G head coach Ken Schriner decided to go for the win instead of the potential game-tying PAT kick and it didn't work out for the Titans. Kuhlman took the snap and rolled to his right, looking for a receiver in the end zone for the go-ahead two-point conversion, but the St. Marys defense got pressure on the O-G quarterback and Kuhlman's pass was overthrown out of the end zone and incomplete leaving the Roughriders on top 21-20.
"Absolutely not," said Schriner when asked whether he had any regrets on going for the lead on the failed two-point conversion try. "We're a team that is trying to find our identity, and we moved the ball down the field. It was the right call at the right time. They (St. Marys defense) made a nice play off the edge. It was a great ball game and both teams layed it all out on the field.
"It was a sprint-out play and they were in man coverage and we got exactly what we wanted, but somebody came through and our protection broke down," added Schriner.
The Titans then tried a desperation on-side kick, but St. Marys' Adam Leininger recovered the O-G kick at the 46-yard line. A trio of running plays by Jeremy Frey, Homan and Josh Zimmerman totaled 11 yards and gave the Roughriders a game-clinching first down. A pair of Taylor kneel downs ran out the clock for the Roughriders victory.
In addition to Taylor's record-setting TD pass, the Roughriders' first-year senior quarterback also completed 10-of-15 passes for a school-record 189 yards and also added a one-yard touchdown run as well.
"What else can you say about Jake Taylor, my golly, he's a kid that didn't letter for us last year and didn't play quarterback until this year and he made a lot of big plays for us tonight, like he has all season long," said St. Marys head coach Doug Frye, who is trying to lead the Roughriders to their first WBL title since 2004. "I don't know if Homan was really open on that long pass play, but he couldn't have thrown a more perfect football than that."
Taylor now has 729 passing yards this season and has thrown nine touchdowns to just two interceptions.
"He has progressed beyond our expectations," admitted Frye about Taylor. "He's got some good guys to throw the ball to and the offensive line has done a good job of giving him time to throw the ball."
After a scoreless first half, the Roughriders and Titans showed some offensive fireworks in the second half of play.
A Taylor Kuhlman two-yard run for a score gave the Titans a 7-0 lead, but Zimmerman tied the game at 7-apiece after a four-yard score.
Taylor gave the Roughriders a 14-7 advantage at the 11:08 mark of the fourth quarter on a one-yard quarterback sneak for a touchdown, but Taylor Kuhlman hit Jacob Moening on a 12-yard pass to tie the game at 14-14.
At the 4:16 mark of the final quarter, Homan hauled in the record-setting TD pass on a third-and-12 play to give St. Marys a 21-14 lead.
"I just saw their defensive back was back-peddling and I saw an opportunity to throw it deep and it was a good pass and we scored," said Taylor. "I was just trying to get a first down at first, but then I saw the DB back-peddling, so I took a shot deep."
"It was a perfect pass and I just caught it and ran," said Homan who led the Roughriders with three catches for 81 yards. "It was a wheel route and I just ran as fast as I could so I wouldn't get caught from behind. Jake is a leader and he puts it on the money every time. You can't ask for anything more than that."
"That's St. Marys football. They lull you to sleep and you have to give their quarterback credit for hitting his receiver right on the money and that's making plays when you need to," said Schriner. "That was two seniors that connected on a great play for them."
Frey led the St. Marys rushing attack with 17 carries for 88 yards.
Taylor Kuhlman was the offense for O-G as the senior threw for 93 yards and two scores to go along with 82 yards rushing and the other Titans touchdown.
St. Marys is back in action on Friday with a road trip to Van Wert.